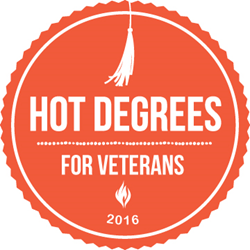 "Our Hot Degrees for Veterans™ is more than education; it puts positive employment outcomes in high-demand job fields first." Daniel Nichols, Chief Product Officer and Navy Reserve.
Pittsburgh, PA (PRWEB) May 11, 2016
G.I. Jobs® today released its 2016 Hot Degrees for VeteransTM (http://www.gijobs.com/2016-hot-jobs-cool-degrees/), featuring the Top 30 post-secondary degrees, certificates and licenses veterans need to enter today's hottest job fields. Victory Media, publisher of G.I. Jobs® magazine and the list, surveyed hiring managers from more than 200 Military Friendly® Employers (https://militaryfriendly.com/2016employers/) to identify the leading degrees for veterans and members of the military making the shift to civilian life.
"Military transitioners and veterans should consider what employers are looking for before they invest their hard-earned GI Bill benefits," said Daniel Nichols, Chief Product Officer at Victory Media and Navy Reserve veteran. "One way to map out a path is by pairing our Hot Degrees for VeteransTM with our Hot Jobs for VeteransTM." Nichols adds, "Education is often key to landing your dream job, but it doesn't necessarily require a traditional four-year degree."
The 2016 Hot Degrees for VeteransTM list includes traditional four-year bachelor degree programs as well as "fast track" options, such as two-year degrees and professional certifications.
The 2016 Hot Degrees for VeteransTM are:
Business

Business Administration
Operations & Logistics
Human Resources
Accounting
Communications
Engineering

Electrical Engineering
Aerospace Engineering
Civil Engineer
Materials Science
Mechanical Engineering
Environmental

Construction Management
Nuclear Energy Technology
Agronomy
Commercial Property & Facilities
Management/Maintenance Geology & Geomatics
General Studies

Biology
Mathematics
Criminal Justice
Economics
Social and Behavioral Sciences
Information Technology

Computer Science
Cybersecurity
Software Development
Information Systems Administration
Information Assurance
Professional Certifications

Project Management (Credential)
Airframe & Powerplant License
Registered Nurse (License)
Automotive Technician (Certification)
Class A CDL (Commercial Driver's License)
"Our Hot Degrees for Veterans™ is more than education; it puts positive employment outcomes in high-demand job fields first," continues Nichols.
# # #
About Victory Media and G.I. Jobs®:
Publisher of G.I. Jobs®, Victory Media is a service-disabled, veteran-owned business serving the military community since 2001. G.I. Jobs® is the premier brand in military recruitment and free guide to opportunities from classrooms to careers for the military community. Follow G.I. Jobs® on Facebook at http://www.facebook.com/GIJobsMagazine or Twitter: GIJobsMagazine.
About Military Friendly®:
Since 2001, Victory Media's Military Friendly® tools have helped thousands of schools and employers get their opportunities in front of veterans as they enter the civilian world. Each year, Military Friendly® ratings provide service members the objective data they need to evaluate how companies and colleges stack up in the recruitment, hiring and support of military veterans. Visit http://militaryfriendly.com for more information about Military Friendly® survey criteria and methodology, tools and resources.
For further information or to arrange interviews contact:
Barbara Pflughaupt, BP Media Relations, LLC, at 212-707-8181