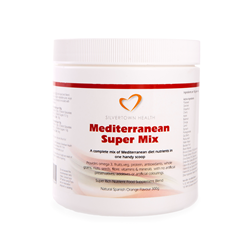 The Mediterranean diet has long been regarded as the diet of health, beauty and eternal youth...
United Kingdom (PRWEB UK) 27 October 2016
Silvertown Health has passionately developed this new super mix powder, which allows everyone to incorporate Mediterranean diet nutrients into their busy daily life effortlessly.
This superfoods powder provides a spectrum of vitamins, minerals, antioxidants, seeds, nuts, omega 3, wholegrains, protein and fibre. Each of these ingredients blend to support internal and external well-being and vitality.
The Mediterranean diet is a highly respected diet and now everybody can get its nutritional benefits in a handy scoop.
The majority of superfoods powders are green due to being principally grasses. However, the unique Mediterranean ingredients of this mix give it a unique rustic red colour, with a delicious natural Spanish orange flavour. The powder is also suitable for vegetarians.
Simply mix with water, fruit or vegetable juice, soya or rice milk, yoghurt or try a different delicious smoothie recipe each day.
Launch Special:
RRP £22.97 – 35% Launch Discount Offer = £14.93
*while stocks last
300g – Up to 30 servings per tub.
Also includes a free home spa face mask with first order
Free tubs:
Editors / Journalists – The first 30 interested enquirers from editors & journalists will receive a free tub to try.
Please email; steven.wilson@silvertownhealth.co.uk for your free tub request or further information.
http://www.silvertownhealth.co.uk
Now everyone can top up their healthy lifestyle and maintain good-quality nutrient levels from the world's most respected diet with Mediterranean Super Mix powder, which supplies 18 Mediterranean nutrients with a tasty Spanish orange flavour in one handy scoop (included with each tub). It also has added vitamins B5, B6 and B12 to help support normal energy, mental performance and immunity levels.
Mediterranean Super Mix is produced in the United Kingdom to the highest standards under quality assured GMP standards and ISO 9001 accreditation which guarantees a quality food supplement.