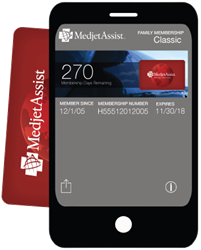 The more well-connected and comforted our members feel from the simplicity and convenience of a Medjet Wallet card, the more they can focus on enjoying their travels.
BIRMINGHAM, AL (PRWEB) March 02, 2016
In today's technology-driven world, busy travelers prefer the convenience of accessing important information via their smartphones versus traditional methods. Recent surveys conducted by Engencia and Expedia.com reveal that 84 percent of travelers want to be able to access information from anywhere in the world. Sixty percent of worldwide travelers do not "unplug" while on vacation, stating that they would not consider going on vacation without a mobile phone. In addition, over 66 percent consider their smartphone more essential than an ID or a toothbrush.
"From booking trips to storing information, our membership base relies on their smartphones for everyday use, especially when traveling near and far," said Roy Berger, president and CEO of MedjetAssist. "The more well-connected and comforted our members feel from the simplicity and convenience of a Medjet Wallet card, the more they can focus on enjoying their travels."
How It Works:
Existing MedjetAssist members can download the Medjet Wallet card free of charge by going to the Medjet Digital Membership Card page. New MedjetAssist members will receive a link to download the card in their electronic confirmation letter or they can visit the Medjet website. A variety of features are available through the card, including membership information, international and domestic direct link dial numbers for assistance, membership expiration notifications, renewal options including push notifications, special membership deals and benefit information. Members can also share their membership information with others as a wallet card or PDF. Android users can expect to see a Google Wallet release in late 2016.
MedjetAssist is world-renowned for its medical repatriation services. Any hospitalized member who is more than 150 miles away from home can be transported anywhere in the world to their home country hospital of choice. Travelers age 75 and under are not subject to health restrictions. There are no co-pays or cost limitations. Additional membership services also include personal travel concierge benefits like free legal and medical referrals, telephone interpretation, emergency message relay to family and friends, and information on visa, passport and immunization requirements for travel to foreign countries.
MedjetAssist's new Horizon membership gives members access to supplemental crisis response, travel security and consulting services, plus ground ambulance transfer, specialty hospital transfer and cash advances (as many foreign countries require payment up front for treatment).
About MedjetAssist:
For travelers who want to experience the world in the fullest way — from elite vacationers to spirited adventurers to committed cause supporters — MedjetAssist is the one travel protection program that provides the most comprehensive membership options for medical, security and crisis response. From the renowned health and medical benefits of a classic Medjet membership to Medjet Horizon, the world's most comprehensive health, security and crisis response membership program for travelers — MedjetAssist provides a complete answer to travel protection. MedjetAssist has its corporate headquarters in Birmingham, Ala., and is the exclusive provider of worldwide air ambulance and medical transfer services for AARP.
For more information visit: https://medjetassist.com/ or follow the company: @MedjetAssist or like Medjet.