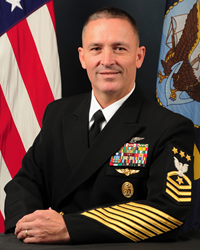 "Before hanging up my Navy uniform and transitioning to civilian life, it was important to me to join an organization where I can continue to make a difference in the lives of the young men and women who served and their families," said Mike Stevens
Pittsburgh, PA (PRWEB) September 08, 2016
Victory Media announced today that recently retired Master Chief Petty Officer of the Navy (MCPON) Mike Stevens has joined the company as its new Chief Operating Officer (COO). As COO, Stevens will be charged with scaling company operations as it grows its mission to create civilian success for our nation's military community.
"Mike Stevens is a deeply principled leader who has used his world-class team-building and change management skills to shepherd a proud Navy into the 21st century," said Chris Hale, Victory Media Chairman and CEO. "Mike will use those skills every day to enable Victory Media's operations for its next phase of growth, in a mission perfectly aligned with his personal beliefs."
"Before hanging up my Navy uniform and transitioning to civilian life, it was important to me to join an organization where I can continue to make a difference in the lives of the young men and women who served and their families," said Stevens. "Victory Media's mission, vision and core beliefs are a perfect match for me. I look forward to extending our positive impact in creating even greater employment, education and entrepreneurial opportunities for veterans and military spouses."
Stevens retired from the Navy last Friday after 33 years of military service, including the last four years as MCPON. Stevens was only the 13th sailor in the history of the Navy to serve as MCPON since its inception in 1967. As MCPON, Stevens was the most senior enlisted person in the Navy, acting as an advisor to the Chief of Naval Operations and to the Chief of Naval Personnel in matters concerning more than 400,000 sailors and their families. Stevens conceived, developed and led several successful change initiatives for the Navy, including the Chief Petty Officer 365 Leadership Training Program, a year-long professional leadership initiative that the Navy is implementing as the primary training method for the total force; the restructuring of the Navy's Senior Enlisted Academy to modernize the curriculum and increase the student population from 350 to 1,600 participants each year; and the creation of a comprehensive program to provide worldwide mobile capability to all Sailors by 2025.
Stevens' academic achievements include a Bachelor of Science from Excelsior College; completion of Harvard John F. Kennedy School of Government's "Leadership in Crisis" program; Senior Enlisted Professional Military Education; Senior Enlisted Joint Professional Military Education; and successful completion of the National Defense University Keystone course. He is an honor graduate and the recipient of the prestigious Peter Tomich Award for exceptional military excellence from the Senior Enlisted Academy. Stevens' personal military awards include the Distinguished Service Medal, Legion of Merit, Meritorious Service Medal (four awards), Navy and Marine Corps Commendation Medal (five awards), Navy and Marine Corps Achievement Medal (six awards), the Coast Guard Achievement Medal with operational "O", Enlisted Aviation Warfare Specialist Insignia, and Enlisted Naval Aircrew Wings.
Stevens will take over COO duties from Rich McCormack, who now focuses exclusively as President of the company, and will report directly to Chairman and CEO Chris Hale. Stevens recently relocated with his wife Theresa from Washington, D.C. to the Pittsburgh area where he will work out of Victory Media's headquarters. Stevens will take a month of leave and start his new duties with Victory Media in October.
# # #
About Victory Media
Founded in 2001, Victory Media is a service-disabled, veteran-owned small business (SDVOSB) that connects the military community to civilian employment, educational and entrepreneurial opportunities through its G.I. Jobs®, Military Spouse, Vetrepreneur®, STEM JobsSM and Military Friendly® brands. Learn more about Victory Media at http://www.victorymedia.com.
For information or to arrange interviews, contact: BP Media Relations, Barbara Pflughaupt at 212-707-8181