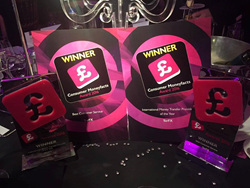 The strength of the feedback for TorFX was enough to see them beat over 100 other companies – including Halifax, LV and John Lewis – to achieve the overall award for Best Customer Service
(PRWEB UK) 25 January 2016
TorFX triumphed at the 2016 Consumer Moneyfacts Awards, proudly winning the Best International Money Transfer Provider of the Year category as well as the overall award for Best Customer Service.
Ever since the company's establishment more than a decade ago, TorFX has been fiercely committed to providing exceptional customer care and they were delighted with this recognition of their customer-first approach.
The awards, which this year were held on January 21st at the impressive Jumeirah Carlton Tower Hotel, London, are designed to showcase the very best providers from a range of financial services, including international money transfers, travel money, health insurance, car insurance, pet insurance and personal loans.
In the words of Moneyfacts, 'the aim of the awards is to give the UK's millions of customers a voice and a chance to reflect on how they feel about the range of products available to them. Combining honest customer feedback with the technically best products will reveal which provider is a true "all rounder". The winners of these awards will then be able to prove that they combine technical merit with service excellence.'
After making the shortlist of ten finalists for the International Money Transfer Provider of the Year award as a result of independent product and service research conducted by Moneyfacts, the winner of the award was chosen by the consumer.
A survey compiled by Moneyfacts was sent to the customers of all nominated companies, with those receiving the best response coming top in their category. Results were independently verified by the University of East Anglia. According to Moneyfacts, feedback showed that 'customers were impressed by TorFX's competitive rates, professional approach and hassle-free transfer service.'
As well as securing the best consumer feedback for their own category of International Money Transfer Provider of the Year, the strength of the feedback for TorFX was enough to see them beat over 100 other companies across 24 categories – including Halifax, LV and John Lewis – to achieve the overall award for Best Customer Service.
Moneyfacts said of the result; 'TorFX has been presented with the award for Best Customer Service at the 2016 Consumer Moneyfacts Awards. This category relies entirely on the opinion of consumers and TorFX customers are clearly very happy with the service they are receiving, making TorFX a deserved and outright winner of the customer service category.'
TorFX CEO Jon Beddell commented; 'We are thrilled to win these awards, and especially honoured to be voted by our clients as overall winner for providing excellent customer service. This is testament to the dedication of our employees.'
Previous accolades won by TorFX include being ranked highly in the Sunday Times Virgin Fast Track 100 list of the UK's fastest growing businesses on two occasions.
TorFX has offices in London, Cornwall and Australia and has grown considerably year-on-year since 2004 thanks to its investment in both people and technology. The company is part of a group which processes in excess of 3 billion Pounds in foreign exchange and international payments per annum, employing over 300 highly-skilled financial services employees.
As well as saving its customers up to 90% on the usual costs of international currency transfers by offering bank-beating exchange rates and a totally fee-free service, TorFX employs a large dedicated team of currency specialists to ensure its customers have immediate access to their own Account Manager.
The ability to build real relationships with its customers is what helps set TorFX apart from the competition and this latest achievement is one which underscores the company's ethos of connecting currency while providing a uniquely personal service.
Keep up to date with the latest from TorFX at:
facebook.com/torfx
Twitter.com/torfx
http://www.torfx.com
Contact Details
For further information about TorFX please contact CEO Jon Beddell Tel: +44 (0)7766056466
About TorFX
Tor Currency Exchange (TorFX) has spent over a decade expanding its range of foreign exchange services and building an international reputation for first-class customer care. The company holds the highest credit rating with Dun & Bradstreet, are licensed as a money transmitter by HM Revenue & Customs and authorised by the Financial Conduct Authority. TorFX is also a member of the UK Money Transmitters Association and receives 5* reviews on Trustpilot for its first-class customer care and money saving services.