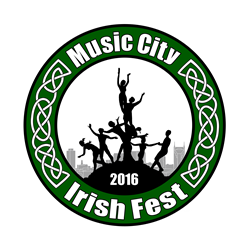 "We are your local Irish Pub, Nashville. If it's important to you, it's important to us."
Nashville, TN (PRWEB) February 24, 2016
The second annual Music City Irish Fest (MCIF) takes over the Music Mile an iconic stretch in the heart of Nashville's downtown area. March 12th musicians take stage starting at 11 am. The established centerpiece of this St. Patrick's Day celebration is the renamed Harp and Fiddle: Nashville's Irish Pub, located at the corner of the famed Music Row Roundabout on Demonbreun Street. There is no charge to attend.
The connection between the festival and the pub goes back a full decade. It was originally founded in 2003 by Quinn O'Sullivan, a partner and local investors, as part of the Dan McGuinness Irish Pub franchise. It quickly skyrocketed to become a prime fixture in the Nashville social scene. By 2005, the pub was hosting and growing what came to be known as the biggest St. Patrick's Day Party in town, featuring live music all day and The Willis Clan was one of the local bands that began appearing regularly on their stage. In 2014, O'Sullivan had thousands of people attending and was extending his marquee events onto his popular patio and tents in nearby parking lots.
Brenda Willis, the mother of the now internationally-known Willis Clan, saw this as an opportunity to bring the experiences she had gained at the world's top Irish festivals back to her home city of Nashville, TN. It was time for a big step.
The O'Sullivan family and the Willis family partnered to take this party out onto the streets of the city to create Nashville's very own Irish Festival. Its inaugural event was a resounding success with over 10,000 people in attendance. The community support adds MCIF to Nashville's impressive array of street festivals as its newest attraction. MCIF is expected to grow alongside the likes of Nashville's 4th of July celebration and New Year's Eve festivities. Both events each now draw more than 150,000 people to Nashville.
As to the changes in name and the choice to remake the branding of the pub, owner Quinn O'Sullivan said: "I am very proud of our work to develop the Dan McGuinness franchise in middle TN but the massive development around Midtown (and Demonbreun Street especially) necessitated some changes that led to our decision to break away from the Dan McGuinness franchise and reopen as an independent Irish Pub."
Freed from the parameters of a corporate/franchise structure, Harp and Fiddle is making key updates to its bar and menu selections and is taking advantage of some of the local farms and shops around town to bring their customers exciting new flavors. Their bar will continue to offer a full complement of international spirits as well as some terrific unique local ones. Harp and Fiddle is also proud to now be smoke-free.
"We are your local Irish Pub, Nashville." O'Sullivan said. "If it's important to you, it's important to us."
Harp and Fiddle remains home to some of Nashville's best music, which blends beautifully with the theme and spirit of what Music City Irish Fest is all about. The free entertainment on the MCIF stages goes from 11 am to 11 pm featuring some of the hottest bands in the festival circuit such as Altan, Runa, The Willis Clan and We Banjo 3, and showcases many exciting collaborations with local artists and legendary stars that only Nashville can offer.
Music City Irish Fest is held every March in Nashville. Last year more than 10,000 people attended the inaugural event. This year more than 20,000 people are expected to take part. Other highlights include traditional Irish food and drink, crafts, sports and instruments.
MCIF 2016 is sponsored by Tourism Ireland, Dark Horse Institute, WSM Radio, Lightning 100, CIE Tours, Harp and Fiddle, Guinness, Yazoo, Lyft and CapStar Bank.
Follow us: Twitter @musiccityirish
#musicityirishfest
Instagram https://www.instagram.com/musiccityirishfest/
Facebook https://www.facebook.com/MusicCityIrishFest/
http://www.musiccityirishfest.com
Go Green. Go Nashville. Go Ireland.