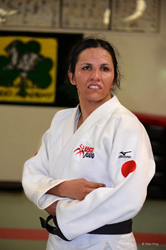 There is something you must always remember. You are braver than you believe, stronger than you seem, and smarter than you think. But the most important thing is, even if we're apart….. We'll always be with you.... Winne The Pooh
San Francisco, CA (PRWEB) October 03, 2016
The Blind Judo Foundation has been recognized by Inclusive TV, the first broadcasting and production company by, for and about people with disabilities who stand together as advocates against the epidemic of bullying.
Athletes of the Blind Judo Foundation are blind and visually impaired, yet they train and compete in the sport of Judo. Unfortunately, the blind and visually impaired are not immune from being bullied and sports involvement is a great resource for addressing and confronting the epidemics of bullying.
Co-Founders, Coach Willy Cahill of Cahill's Judo Academy and Ron C. Peck of the Blind Judo Foundation have a zero tolerance to bullying of any kind. This attitude permeates all Instructors and leadership within the Academy and Foundation on or off the mat.
Bullying is not "a childhood rite of passage." Please help become a part of the solution by checking out Inclusive TV and the Foundation.
Visual impairment is only one disability. In the USA there are over 57 million people living with various types of disabilities along with the rest of the world and are considered the largest minority group in the world which is most vulnerable to being bullied.
Disabilities are not limited to social, economic or educational levels but affects people of all ages, economic and educational strata. Now there is one television channel which recognizes all disabilities beyond blindness called Inclusive TV (ICTV).
According to PACER, children with disabilities were more worried about school safety and being injured or harassed by other peers compared to students without a disability. This is unacceptable.
Also the National Autistic Society reports that 40 percent of children with autism and 60 percent of children with Asperger's syndrome have experienced bullying. The epidemic continues.
Both the Blind Judo Foundation and Inclusive TV are recognized as Champions Against Bullying of the PACER's National Bullying Prevention Center. To learn more about Bullying Prevention, visit the PACER: National Bullying Prevention site.
The end of bullying begins with us you.
About us:
The Blind Judo Foundation is a nonprofit 501(c) (3) organization that introduces and trains blind and visually impaired children, young adults and returning blind and visually impaired military men and women in the sport of Judo. Supporting our blind athletes to train, travel and compete relies upon tax-exempt donations.
Check out the Foundation and our Facebook page at http://www.facebook.com/BlindJudoFoundation or by contacting Ron C. Peck at roncpeck(at)blindjudofoundation(dot)org and 1-425-444-8256. Or Coach Willy Cahill at dave1(at)sbcglobal(dot)net and 1-650-589-0724
William Kidston and Ron C. Peck are Co-Founders of Inclusive TV.
William Kidston can be contacted at 310-739-6904 or Kidston7730(at)yahoo(dot)com.