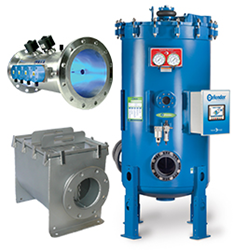 In addition to being a great public project, it showcases the range of products we offer and how they can be utilized by designers to provide cost savings and improve water quality.
Beaver Dam, WI (PRWEB) July 21, 2016
Neptune Benson was selected to supply a Defender® regenerative media filter, four ETS-UV disinfection systems and a ProStrainer™ high capacity strainer for the Cleveland Public Square project.
Public Square, which unveiled its new design in June, is transformed from four individual quadrants into a singular public park that can be used throughout the year for a wide range of programs and events. Landscape and design creates a soft colorful urban space that invites people in and encourages them to stay. The Square includes pedestrian pathways, green spaces for concerts and events, areas to sit and lounge, a water feature, a café and restrooms. The Soldiers and Sailors Monument will remain, but will be integrated into the overall park and become more accessible.
The Defender, ETS-UV and ProStrainer were chosen for the Cleveland Public Square fountain feature. The fountain, which spans approximately 5,000 sq. ft., encourages interactive water play and serves as an aesthetic fountain. The fountain features 117 undulating jets and 117 LED lights. In the winter months, the fountain will convert to an ice rink, encouraging year-round activity in the large outdoor space.
Fountains require excellent water quality to prevent the small nozzles from clogging or a reduction in the directed flow. Interactive fountains recirculate a relatively small amount of water typically used by a large number of bathers. The bathers are primarily children wearing street clothes and the Neptune Benson equipment will offer protection to those who may ingest the water. Therefore, ETS-UV disinfection is a priority to protect against chlorine tolerant pathogens like Cryptosporidium. Also, Neptune Benson's Defender filter provides high quality water by removing particles down to 1 micron, requires 75% less construction space when compared to other sand filters, and provides remote monitoring and control of system operations. In addition, interactive fountains, like decorative fountains are outdoors and susceptible to collecting debris. The ProStrainer was chosen because the large holding capacity of debris provides a reduction of maintenance.
Shannon Hoff, Principal Managing Director of Fluidity Design Consultants involved with this Cleveland Fountain project states "For the Cleveland Public Square project, the Neptune Benson Defender series filter was chosen due to its high level of filtration in a small footprint, small pressure drop across the filter, water conservation and the filter automation."
"We're extremely proud to be involved with projects like this." said Ken Rodi, President of Neptune Benson. "In addition to being a great public project, it showcases the range of products we offer and how they can be utilized by designers to provide cost savings and improve water quality."
Lean more about us at http://www.neptunebenson.com, http://www.evoqua.com
About Neptune Benson:
Neptune Benson, an Evoqua brand, has been synonymous with water filtration and disinfection serving the municipal, industrial, and recreational water markets since 1956. Featuring award-winning brands such as the Defender® regenerative media filter, ETS-UV disinfection system, and Vortisand and Legacy sand filters. Neptune Benson also offers the AEGIS anti-entrapment shield, moveable bulkheads, Dominion™ butterfly valves, ProStrainer™ and Guardian strainers, greendrive VFD systems, as well as all Lawson Aquatics accessory products. Neptune Benson has the expertise to provide effective and cost efficient solutions for a broad range of industry needs.
About Evoqua
Evoqua Water Technologies is the global leader in helping municipalities and industrial customers protect and improve the world's most fundamental natural resource: water. Evoqua has a more than 100-year heritage of innovation and industry firsts, market-leading expertise, and unmatched customer service, where it continues to transform water and wastewater. Its cost-effective and reliable treatment systems and services ensure uninterrupted quantity and quality of water, enable regulatory and environmental compliance, increase efficiency through water reuse, and prepare customers for next-generation demands.