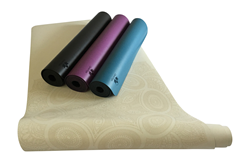 Yoga practice, not yoga perfect
Tampa, FL (PRWEB) August 04, 2016
Sometimes in life, you just need to get a grip.
In response to customer demand, CleverYoga has developed a premium non-slip, ecofriendly and durable yoga mat, especially for fans of power and hot yoga. Two of the top complaints of yoga practitioners are being distracted and feeling unsteady moving on a slippery surface in a flow class, or during standing poses and inversions. This is especially true if the person sweats a lot, or attends classes in a heated studio.
Yoga and other fitness-oriented people also soon learn that the inexpensive, plastic yoga mats are bad for the environment and usually don't meet the needs of yoga or other kinds of exercise.
CleverYoga asked their product testers, who are both experienced yoga teachers and students, to try out the LiquidBalance mat. Of course, the testers have experimented with a variety of popular yoga mats and have their favorites, but CleverYoga was thrilled to discover they all agree that LiquidBalance mat becomes their first choice.
Along with the comfort found in other CleverYoga mats, the LiquidBalance Mat is thick enough to give enough cushion for joints, however, this mat also has extra "stickiness," which helps boost confidence in moving in a hot yoga flow.
Testers were all impressed with the grip of the mat's material. They all commented on the noticeable difference of the support. They said they felt more muscles being used and extra grip in poses such as Warrior I.
LiquidBalance's top layer is polyurethane, which quickly dries moisture so the surface is non-slip, smooth and safe. The bottom layer is made of environmentally friendly natural tree rubber. The tree rubber is 100% biodegradable and naturally and sustainably harvested. Unlike other mats on the market, the layers are heat bound; no toxics glues are used.
"The CleverYoga team is always looking for new and better ways to create and offer yoga products for our community," says Ellie Teng, CleverYoga CEO. "The LiquidBalance mat solves the problem of slipping on a wet mat. The mat also is a choice for people concerned about the environment. We're very excited about the enthusiasm for this new mat."
LiquidBalance mat comes in four colors: blue, purple, white and black. The mat is 72.8 inches long x 26.8 inches wide. It is lightweight and easy to clean.
About CleverYoga
CleverYoga is an innovative woman-owned and operated company, based in Tampa, Fla. CleverYoga aims to offer superior, reliable products that make a difference in customers' lives. The CleverYoga team uses meticulous market research and strict quality control and testing to create [high-quality products.
Recently, the company has launched an online store using the largest online retailer, Amazon, as their platform. CleverYoga's online store can be found at Amazon.
Established in 2014, Clever Yoga's mission is to provide reliable, high quality yoga
equipment, as well as excellent customer care.