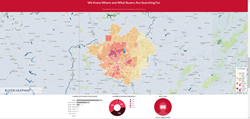 "Northwood's Find Buyers program gives our agents a tremendous advantage in the real estate marketplace."
(PRWEB) August 04, 2016
Northwood Realty Services, one of the region's largest real estate services providers, is now offering consumers a new technological edge that is completely unique to the Western Pennsylvania and Eastern Ohio markets it serves. Northwood's Find Buyers program is a home valuation tool that harnesses real time data and predictive analytics to help its almost 1,000 agents more effectively match qualified home sellers and buyers.
Northwood has partnered with Buyside, a leading software provider of real estate buyer data and analytics, to create Northwood's Find Buyers customized program. Its features make it easy for consumers to find property value estimates for their home or any property, track local real estate search activity and measure potential demand for properties. It also assists Northwood agents in identifying potential buyers for their clients.
"Northwood's Find Buyers program gives our agents a tremendous advantage in the real estate marketplace," noted Tom Hosack, president and CEO of Northwood Realty Services. "We've always known the supply side in real estate but until now, we've never been able to understand and measure true, real-time demand down to the neighborhood level. Previously, we could assess demand data on a macro level. Now we can combine this new technology with the expertise of our agents to help sellers more effectively price and sell their homes. And, it helps our agents connect buyers with the exact properties that fit their needs."
To use the service, consumers can contact a Northwood agent or visit http://northwood.findbuyers.com and simply enter the address of any home to check property value estimates and view profiles of potential buyers. This simple, no obligation search will return property valuation estimates from three leading home value sources for a general range. Consumers also have the option to contact a Northwood agent for a more in depth Comparative Market Analysis of their home.
Northwood's Find Buyers property search will also show a statistical funnel of exactly how many interested buyers have been searching within the last 90 days for properties matching the home's criteria. A heat map will visually illustrate, by neighborhood, where potential buyers are looking. It will also detail statistics about the criteria they are seeking, such as number of bedrooms and buying interest by price range. Next, supply side trends are listed, such as the median sale price of homes in the area and number of homes sold within the past 100 days. Finally, results will show a map of recent sales near the property entered.
In addition to the property valuation report available to consumers, Northwood agents have the ability to prepare a Future Market Analysis which utilizes data showing real-time buyer demand. This data, combined with our agent's expert knowledge of the local market, assists sellers in pricing the property more accurately and effectively.
"When you pair Northwood's Find Buyers program with the in-depth local market insights of our agents, and add it to all the other advanced tools we offer, such as the only fully integrated mobile platform in the market and our e-Property Watch service, Northwood is truly leading the way for both home sellers and buyers in Western Pennsylvania and Eastern Ohio," said Hosack.
Hosack noted that since the Find Buyers program became available to agents prior to its official launch during the past few weeks, registrants have continued to increase dramatically. To use Northwood's Find Buyers, visit: http://northwood.findbuyers.com or visit http://www.northwood.com to learn more about Northwood Realty.
# # #
About Northwood Realty Services
Founded in 1956, and celebrating 60 years of service, Northwood Realty Services is one the region's largest real estate services providers, serving customers across 22 counties from 37 offices in Western Pennsylvania and Eastern Ohio. Northwood and its affiliates provide clients with full-service real estate solutions that cover every step of the home buying and selling process. Northwood consistently leads the industry by employing new technologies, best-in-class training and experienced leadership to ensure that its agents are positioned to assist buyers and sellers with unparalleled customer service. Northwood has earned a reputation for integrity, accountability and hard work. Guided by these principles and a desire to serve others, Northwood agents are changing the face of real estate.
For more information about Northwood Realty Services visit: http://www.northwood.com/