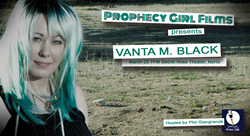 The immense amount of work and passion that goes into creating a novel is something writers should not only understand, but embrace, to truly be successful.
Los Angeles, CA (PRWEB) February 21, 2016
An event designed for writers, authors and fans of reading, this conversation with Vanta M. Black focuses on how to conduct research for historical fiction, the development of a genre novel, the process of publishing and marketing a book in today's competitive environment, as well as the challenges of writing a book with the goal of turning it into a film or series.
Minoti Vaishnav, Communications & Development Director of Prophecy Girl Films, says, "I was inspired to create this very special event after meeting Vanta at her book launch party. The immense amount of work and passion that goes into creating a novel is something writers should not only understand, but embrace, to truly be successful. Aspiring novelists, as well as television, film, and all writers, will enjoy this once in a lifetime opportunity."
Moderated by Phil Giangrande, the host of the hit show Seated at the Writer's Table, the event happens Sunday, March 20th, 2016 at The Secret Rose Theater in North Hollywood, California at 7:00pm. The evening also includes a book signing and special prizes for attendees.
Giangrande says, "I recently interviewed Vanta on my show and enjoyed her insights and candor. There's a methodology behind her writing that's nearly as fascinating as reading it! We're going to have a great time unraveling the many intricate layers of genre writing together."
Tickets are $12.00 each and available now through Prophecy Girl Films' Eventbrite page. Seating is limited and available on a first come basis.
Vanta M. Black's breakout novel, Oubliette—A Forgotten Little Place was inspired by Leap Castle, the alleged "most haunted castle in Ireland". The fictional work is actually set in a French château and consists of several interwoven stories that all have a basis in reality or historical legend.
Oubliette—A Forgotten Little Place can be found on Amazon, Barnes & Noble, VantaMBlack.com and other retailers in digital, paperback, and hard copy versions.
To listen to Phil Giangrande's show, visit SeatedAtTheWritersTable.com.
About Prophecy Girl Films
Prophecy Girl Films offers a wide variety of services, including script development, marketing, public relations and film production. They have experience working with non-profits, individuals, and corporations alike. Some of their prestigious clients include the documentary film Let Them Eat Cake (Prestige Gold Award Winner), the documentary film Women Behind the Camera (winner of five Best Documentary film festival awards), narrative short film Dispossessed (Winner of seven film festival awards for Best Short), and The IDA Screening Series, The IDA Awards, and DocuDay Los Angeles for The International Documentary Association. Visit ProphecyGirlFilms.com for more information.
About Black Château
Black Château Enterprises is the parent company of Black Château Publications. Dedicated to creative endeavors and the promotion of the human experience in all its forms, Black Château delivers the stories no one else dares. Black Château Publications is proud to represent Oubliette—A Forgotten Little Place by Vanta M. Black. This epic thriller takes readers to the darkest depths of mystery, suspense, horror and intrigue. Explore more: VantaMBlack.com and BlackChateauEnterprises.com.