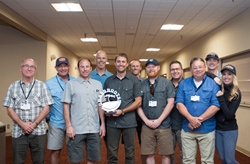 We're thankful for the recognition and look forward to further growth with Grassroots and all of their member retailers. - KÜHL
Salt Lake City, Utah (PRWEB) June 16, 2016
KÜHL outdoor clothing was awarded the 2016 Vendor of the Year Award at Grassroots Outdoor Alliance (GOA), a gathering of the top independent outdoor retailers in Albuquerque, New Mexico this week. Outdoor brands and member retailers came together to preview new designs and place orders for upcoming seasons.
The winning outdoor clothing brand was selected based on member retailers' votes and reflects KÜHL's commitment to its outdoor retailer partners. KÜHL led the pack, receiving more accolades than any other attending GOA vendor. KÜHL continues to be a leader with its innovative designs and limited distribution strategy and is winning market share in the outdoor industry.
KÜHL's Vice President Evan Shapiro accepted the award, saying, "First, I want to thank Grassroots Outdoor Alliance – what a great community and forum to not just display our wares, but to talk about the state of the industry and focus on keeping it healthy in the long term."
About KÜHL® Born in the Mountains®
KÜHL [kül] German < 1.) English Translation: COOL
KÜHL is a product-driven company with a passion for the outdoor experience. We are a group of artists, designers, industrial engineers and athletes who collaborate to create great products that are timeless and in a constant state of evolution. We develop our own exclusive technical fabrics with state of the art design. KÜHL is where function, style, art and science become one.