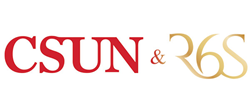 We thank the Sobhe family for offering this scholarship and all their support of CSUN. It is fulfilling to see former students like Ash Sobhe succeed and then offer a helping hand to present-day students
Los Angeles, CA (PRWEB) March 03, 2016
Ash Sobhe is the CEO and founder of R6S, a successful digital marketing agency located in Calabasas, California. A graduate of California State University, Northridge, he and the Sobhe family created the annual scholarship to benefit a student seeking to become an entrepreneur.
Sobhe says, "My family and I want to give back to the community and as a graduate of CSUN, I have a deep affinity and love of the school. They've given me the foundation I need to succeed, and I want to help other future leaders fulfill their dreams."
An entrepreneur himself, Sobhe has a passion for technology and the digital space. His first company was ITC, an award-winning firm that served as the catalyst for R6S. Today R6S has blossomed into a premiere agency with a client list that features Lamborghini, Anto of Beverly Hills, UCLA, Madison, and many others.
Courtney McIntyre, the Director of Development at the David Nazarian College of Business and Economics at CSUN, adds, "We thank the Sobhe family for offering this scholarship and all their support of CSUN. It is fulfilling to see former students like Ash Sobhe succeed and then offer a helping hand to present-day students."
R6S is also hosting a silent auction to benefit CSUN's scholarship fund during its upcoming launch party. Happening Tuesday, March 15, the after-work networking event features a ribbon cutting ceremony with Mayor James Bozajian. Additionally, Councilmember Fred Gaines, plus representatives from the offices Barbara Boxer, Matt Dababneh, Sheila Kuehl, Ted Lieu, and Fran Pavley, will also be in attendance.
ABOUT R6S
Intelligent marketing is what sets R6S apart. With an approach that looks to the future, rather than the past, R6S positions its elite clients to be on the cusp of a digital uprising—the convergence of creativity and technology—to organically grow business. R6S does this with exclusive Coteries. These customized partnerships are uniquely-designed to deliver unparalleled results. This wickedly-creative blend of branding, public relations, content marketing, social media, SEO, and inventive advertising has seen the R6S team recognized as one of the Top 10 Best Design firms by 10 BestDesign. It was also awarded a Top 5 position by MOZ, the marketing analytics authority, and declared a Top 50 SEO company by an independent ranking company. Explore more at http://www.R6S.com.