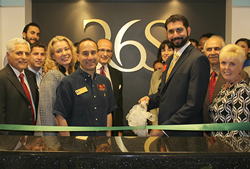 We had an amazing launch party and thank everyone who came out to support us in our Digital Uprising!
Calabasas, CA (PRWEB) March 18, 2016
R6S successfully launched their Digital Uprising at their new Calabasas location, on Tuesday, March 15, 2016. Among those in attendance were VIP members, which included the City of Calabasas Mayor, James Bozajian. Also present were Conejo Valley Chamber of Commerce members, plus representatives from the offices of elected officials Matt Dababneh, Sheila Kuehl, Ted Lieu, and Fran Pavley.
Jill Lederer, President and CEO of Greater Conejo Valley Chamber of Commerce commented, "The Greater Conejo Valley Chamber of Commerce welcomes Ash Sobhe and the R6S Team to the chamber and wish them the best at their stunning new location in Calabasas."
Certificates from Congressman Ted W. Lieu, Assemblymember Matt Dababneh, Assemblymember Jacqui Irwin, the City of Calabasas, Los Angeles County, and the Greater Conejo Valley Chamber of Commerce were presented. An official ribbon-cutting ceremony was the evening's highlight.
Ash Sobhe, Founder and CEO of R6S, says, "We had an amazing launch party and thank everyone who came out to support us in our Digital Uprising. As an intelligent, creative agency, we're breaking boundaries and turning existing, tired old methods on their head with exciting breakthroughs in marketing through artificial intelligence and other cutting-edge technologies. It was incredible to see all the love and encouragement from everyone in the community, our clients, friends, neighbors and family!"
R6S recently launched their new website. The company provides services for elite clients including Lamborghini, who participated in the festivities with a red Huracán parked in front, which was showcased for guests upon arrival.
Mayor Bozajian says, "Congratulations to Ash Sobhe and R6S. Great office and great party."
The event also included a silent auction benefiting CSUN's Scholarship Fund. Donations included: Conejo Valley Veterinary Hospital certificate, David Jeffrey Flowers certificate, two Fitwall passes, Jeannine's Gourmet Food Hall gift card, Kila's Oasis Spa certificate, four passes to Magic Castle donated by Carlo Panno, dinner and a movie combo from Muvico Thousand Oaks, and an area rug from NW Rugs.
For more information on R6S' Digital Uprising. Follow the conversation with #coterie and #DigitalUprising on Facebook, Instagram and Twitter. For the complete photo gallery, visit the R6S website or Facebook album.
ABOUT RS6
A wickedly-creative blend of integrated marketing strategies, the award-winning team at R6S delivers avant-garde digital solutions to an elite list of clientele. Founded by Ash Sobhe, R6S is a creative media group. R6S specializes in organically growing businesses through R6S Coteries—customized partnerships which deliver unprecedented results. Always a leader and never a follower, Sobhe and his team leap beyond the ordinary to deliver dynamic solutions with unprecedented results. Sobhe's company was declared one of the Top 10 Best Design firms by 10 Best Design. It was also awarded a Top 5 position by MOZ, the marketing analytics authority, and declared a Top 50 SEO company by an independent ranking company. Visit http://www.R6S.com to explore more.