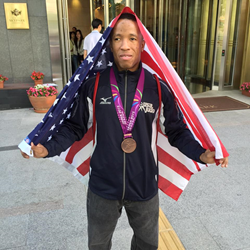 When Something Bad Happens You Have Three Choices: You Can Either Let It Define You; Let It Destroy You; or You Can Let It Strengthen You
Redmond, WA (PRWEB) March 08, 2016
"Ron Hawthorne knows exactly where he wants to be four years from now, in Tokyo at the 2020 Summer Paralympics, listening to The Star Spangled Banner with a medal around his neck," reports Nick Alexander, an advocate and supporter of the Blind Judo Foundation who recently interviewed Ron.
Ron is visually impaired, the result of an accident at age 2. Growing up, Ron Hawthorne was not only bullied but physically abused, leaving a mark not easily removed. Ron's visual impairment and size – 5'5" and 135lbs – made him a target for bullying. This has only motivated Hawthorne to be a cut above.
Whether by natural inclination or as a result of the circumstances, Ron learned to compete early, starting with track and wrestling. He learned to fight, literally, for what he wants in life, turning negative experiences into positive motivations and opportunities to cope with his early childhood conditions. Ron's drive to be the best, along with his applicable wrestling experience, helped jump start his judo career.
Ron now holds a second degree black belt in judo and boasts 15 years of successful, competitive experience. Hawthorne relocated to Colorado Springs, Colorado in 2010 in order to pursue Judo full time training at the U.S. Olympic Training Center (OTC). The move paid off, leading to the opportunity to represent the United States at the 2012 Summer Paralympics in London, where he reached the quarterfinals in the Men's -60kg division, ultimately bowing out to the eventual silver medalist.
Per Alexander, "Ron wants a second shot at the podium and has been training relentlessly since London, staying on at the Olympic Training Center. He currently practices judo four days a week, lifts weights three days, and works in an additional three cardio sessions."
In light of this physically grueling schedule, Ron credits his continued motivation to being surrounded by like-minded individuals. Hawthorne told Alexander, "You get some of the best coaches to work with and some of the best athletes to be around. And not just in judo. You get a chance to be around highly-competitive boxers, swimmers, and wrestlers. It's motivating because everyone there has the same goal: to be world champion."
Before Tokyo 2020, however, Ron is targeting a podium this summer. He is currently attending a week-long camp in Brazil, where he will test his skills and further his case for inclusion on the U.S. team headed for the 2016 Paralympic Games in Rio.
The Blind Judo Foundation is proud to support Hawthorne on his road to Rio and is covering his travel costs, camp and tournament fees from March 2 – 9, 2016 in Brazil. Nick Alexander will be reporting more on Ron as he progresses in representing the USA on the world stage in the sport of judo.
About us:
The Blind Judo Foundation is a nonprofit 501(c) (3) organization that introduces and trains blind and visually impaired children, young adults and returning blind and visually impaired military men and women in the sport of Judo. Supporting our blind athletes to train, travel and compete relies upon tax-exempt donations.
All members of the Blind Judo Foundation are volunteers. A select few of our elite athletes go on to represent the USA as members of the US Paralympic (not to be confused with Special Olympics) Judo Team. Check out the foundation and our Facebook page or by contacting Ron C. Peck at roncpeck(at)blindjudofoundation(dot)org or 1-425-444-8256 or Coach Willy Cahill at dawave1(at)sbcglobal(dot)net