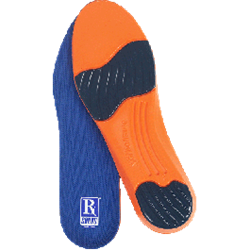 If when visiting a doctor for a general checkup, or even more likely when seeing a specialist such as a podiatrist.
Chicago, IL (PRWEB) April 30, 2016
RxSorbo, a top-rated online retailer of superior walking shoe insoles, is pleased to announce the update of its informational Web page discussing the common medical condition of osteoarthritis and shoe insoles or inserts. Since the first step in effective treatment is to recognize the condition, the symptoms to watch for are described on the new page (originally published in December, 2015, and newly updated in April, 2016). Further, the role of shoe insoles in ameliorating the symptoms of osteoarthritis are discussed.
"If when visiting a doctor for a general checkup, or even more likely when seeing a specialist such as a podiatrist, one may receive the news of an osteoarthritic condition," explained Rj Yozwiak, Manager of RxSorbo. "Rather than take the potentially slow path of randomly purchasing some walking shoe insoles to see if they help one's condition, the new update to our page helps to better inform customers about the condition itself and the ways that shoe insoles may be able to help. (The original December, 2015, version was sparse on medical information)."
Osteoarthritis and Shoe Insoles: Quick Summary
Osteoarthritis one of the most typical forms of arthritis people suffer from. The disorder typically affects joints in the hands, knees, hips and even the spine. But the focus here is on osteoarthritis of the feet. The condition is painful for the simple reason that those bones in the foot must bear the weight of the body with each step. Some degree of comfort may be restored by using a good orthotic walking shoe insoles. Having received a professional diagnosis from a qualified physician, the next step is likely to be a suggestion to use a walking shoe insole to help treat the pain. With a well-stocked and easy-to-use online store, RxSorbo now combines informational posts on the problem (osteoarthritis in this instance) with a path to a solution (insoles). To browse available insoles for all conditions and uses, one can visit the following URL: http://www.rxsorbo.com/insoles/. There, one can browse the company's classic heel pads, classic insoles, and the all whole line of walking shoe insoles.
To view the updated page on arthritis and shoe insoles visit http://www.rxsorbo.com/rx-blog/foot-ailments-osteoarthritis. To view a sample related page on Amazon, visit http://amzn.to/1YLsCtk.
About Sorbothane
Developed by a Materials Scientist to mimic human flesh - Sorbothane® is a one-of-a-kind visco elastic polymer. 100% unique - Sorbothane® is a solid that naturally "flows" like a liquid - Sorbothane® absorbs impact shock and provides comfort better than any other insole material available today.
About RxSorbo
RxSorbo is the source for Sorbothane® Shoe insoles (shoe inserts). Sorbothane® uniquely absorbs up to 94.7% of impact shock, and makes for quality shoe insoles for many conditions. People come to RxSorbo for shoe insoles for foot maladies from Plantar Fasciitis to Morton's Neuroma to metatarsalgia to many other conditions. From Shoe inserts for running to top-rated insoles for dress shoes to gym shoes, reviews of the company's shoe insoles prove they are among the best shoe insoles.
RxSorbo
http://www.rxsorbo.com/