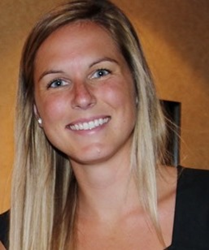 It is truly an honor to receive this scholarship from Standard Process.
PALMYRA, Wis. (PRWEB) March 31, 2016
Two Standard Process Inc. scholarships, valued at $2,500 each, were recently awarded to Carolyne Nellis and Dean Wright, students of Palmer College of Chiropractic (Palmer). Standard Process, a visionary leader in whole food nutrient solutions, has awarded scholarships to students attending Palmer for the past decade. The company believes in supporting universities and students that are committed to reshaping the future of health care.
"It is truly an honor to receive this scholarship from Standard Process," said Nellis. "From what I have experienced, supplements are often the missing piece of the puzzle for many health conditions, and I look forward to using Standard Process supplements for many years to come in order to help patients reach their health goals."
Nellis, who will graduate in September 2016, attends Palmer in San Jose, California. Wright, a third quarter student on pace to graduate in September 2018, attends the school's Port Orange, Florida, campus. He credits "hard work and determination" as keys to his success in being selected to receive one of the scholarships.
To qualify for a scholarship from Standard Process, students must: maintain a cumulative grade point average of 2.9 or higher; provide a list of their contributions to the chiropractic profession, to the college and to their community; provide a letter of recommendation; and provide a 500-700 word essay. This year's essay question asked applicants to explain what they believe are the top five nutritional myths and how they will guide future patients around those myths.
Later this year, Standard Process will award one more $2,500 scholarship to a chiropractic student at the Palmer Chiropractic College campus in Davenport, Iowa.
If you are interested in learning more about this scholarship program and others offered by Standard Process, contact Lisa Hackett, professional development coordinator, at 800-848-5061, or by email at lhackett(at)standardprocess(dot)com.