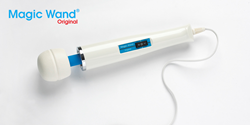 Fans and therapists have 'extolled the Wand's virtues' since the 1970s
Napa, Calif. (PRWEB) May 11, 2016
The Magic Wand®, the personal massager trusted for over 30 years, on Tuesday was named to Time Magazine's one-time list of the 50 "Most Influential Gadgets of All Time". Featured in the top 10, the Magic Wand joined other life-changing devices such as the Apple iPhone, the Sony Walkman, the HP DeskJet and the Nintendo Entertainment System on the prestigious list.
Time Magazine has published its list of the most influential persons of the year (previously Man of the Year) annually since 1927, featuring most sitting presidents, world leaders like Winston Churchill, Mikhail Gorbachev and Angela Merkel, as well as people, groups, ideas or objects that have significantly influenced the events of the year. However, Tuesday's list of the "tech that forever changed the way we live, work, and play" was a one-time feature.
In its motivation, Time Magazine notes that fans and therapists have "extolled the Wand's virtues", and that it appeared on Sex and the City in 2002. It also notes the Magic Wand's enduring association in popular vernacular with the company that invented it, Hitachi.
The Magic Wand, previously the "Hitachi Magic Wand", became widely known after sex educators like Betty Dodson, Joni Blank and Dell Williams recommended the massager to their clients, starting in the 1970s. Since then consumers have loved it for its power, quality and reliable satisfaction. In 2015, the Magic Wand Original was joined on store shelves by the Magic Wand Rechargeable, a cordless massager offering the freedom to enjoy the wand's pleasures almost anywhere, anytime.
"We are humbled that the Magic Wand has been recognized in this way by Time Magazine," says Shay Martin, Vice President of Vibratex, Inc., exclusive importer of the Magic Wand since 2000. "Consumers, therapists and reviewers have praised and recommended the Magic Wand for over thirty years; still it is an honor to see the 'Cadillac of vibrators' on this iconic one-time list by Time Magazine," adds Martin.
The Magic Wand is no stranger to awards and recognition. In January, the Magic Wand Rechargeable was named 2016 Sex Toy of the Year by industry magazine XBIZ. A year earlier, the Magic Wand Original won the SHE Award for "Best Sex Toy for Women", after winning the first-ever consumer-voted "Favorite Sex Toy for Women" in the Sex Awards in October 2013.
More information is available on http://www.MagicWandOriginal.com, and retailers may order it by contacting info(at)vibratex(dot)com or (800) 222-3361.