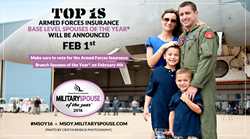 "Over the past nine years, the MSOY Awards have recognized hundreds of military spouses for their dedication and their work for our military communities and America. We're excited about 2016," said Kate Dolack, Editor-in-Chief of Military Spouse magazine
Pittsburgh, PA (PRWEB) February 01, 2016
The votes for the 500+ nominees have been tallied and the judges have weighed in: the top 18 candidates for Branch winners for the 2016 Armed Forces Insurance Military Spouse of the Year® can be found and voted on here: http://msoy.militaryspouse.com/vote/
All Americans are encouraged to meet the finalists online now and VOTE on February 4, 2016 for a Branch winner from each service - Army, Marine Corps, Air Force, Navy, Coast Guard and National Guard. The individual Base and Branch candidates for this award, which is presented by Military Spouse magazine, were selected through a combination of an online vote open to all Americans and a judges' panel. Thousands of people came to the site to cast their vote, resulting in a Spouse of the Year from 184 bases and all 9 Coast Guard districts.
This award recognizes the vital role played by the force behind our nation's service members: Military Spouses. These spouses and their families are our nation's volunteers in many ways that civilians never take into account. They have volunteered to serve as the voice for their service members and families (who sometimes cannot speak for themselves), they often serve as single parents and heads of households when spouses are deployed, as well as advocating for their military communities, volunteering their time and talents to charitable causes and leading change. In every way these men and women are making important contributions to America and its protection and defense.
"Over the past nine years, the MSOY Awards have recognized hundreds of military spouses for their dedication and their work for our military communities and for America. This year, we are excited to recognize an incredible group of new deserving spouses and look forward to sharing their advocacy with the nation," said Kate Dolack, Editor-in-Chief of Military Spouse magazine.
The six branch winners will be announced on February 19, 2016, and the third and final voting round on March 3, 2016, results in the awarding of the 2016 Armed Forces Insurance Military Spouse of the Year® during a live V.I.P. event hosted in Washington D.C. in May 2016.
"Military spouses are often the unrecognized champions on the home front. They maintain the home and family during lengthy deployments, advocate for our service members, veterans and military children and selflessly give back to our communities through volunteer work and moral support. On behalf of Armed Forces Insurance, we salute each of you!" said Lori Simmons, Assistant Vice President of Marketing &Communications at Armed Forces Insurance.
To learn more about the individual Base level winners and the top 18 branch finalists go to http://msoy.militaryspouse.com. Information on the Military Spouse of the Year® Program, including nominee eligibility, rules and regulations, and program alumni can also be found there.
About Military Spouse
Military Spouse magazine and http://militaryspouse.com, published by Victory Media, is the leading national magazine and online destination for the nation's 1.1 million military spouses. You can follow us on Facebook at https://www.facebook.com/MilitarySpouse/ and on Twitter at @MilpouseMag.
The company also publishes G.I. Jobs magazine (gijobs.com) and Vetrepreneur magazine (navoba.com), and has created the Buy Veteran movement (buyveteran.com) powered by NaVOBA.
About Armed Forces Insurance
AFI was founded in 1887 by military leaders with a single mission: to protect the property of those who protect our nation. The company provides premium quality, competitively-priced property and casualty insurance to military professionals throughout the United States and overseas. AFI understands that military members have unique circumstances and insurance needs, enabling the company to offer a level of personalized service that's unequaled in the industry. For more information, visit the website at http://www.afi.org or call 1-800-495-8234.
For more information or to arrange interviews, contact:
BP Media Relations, LLC
Barbara Pflughaupt – 212-707-8181