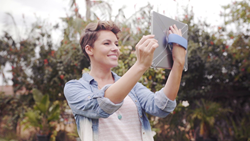 Dramatically increase your iPad Pro productivity with the multifunctional CoulVue Mounting System.
San Diego, CA (PRWEB) October 26, 2016
TouCoul LLC announces the launch of its Kickstarter campaign for the innovative CoulVue Multifunctional iPad Pro mounting system. Early investors will enjoy amazing rewards, including the opportunity to support the transformation of iPad Pro utility with a comprehensive accessory package. The CoulVue Multifunctional iPad Pro mounting system complements iPad Pro utility with the following features:
iPad Pro Case
The sturdy design and construction of the CoulVue case allow the sleek contours and features of the iPad Pro to shine through. The transparent holder attaches securely to the back of the iPad.
iPad Pro Handle
The handle works in conjunction with the CoulVue case, making it possible to operate the iPad Pro with one hand -- without risking damage from a drop. The handle doubles as a stand to prop the iPad Pro, and the screen can be easily rotated from portrait to landscape.
Clear Protective Film for Both Sides of the iPad Pro
Tiny scratches can detract from the iPad Pro's crystal-clear images, and scratches of any size on the front or back of the iPad reduce both value and functionality. The CoulVue system includes transparent protective film for both sides of the iPad Pro. Nearly invisible, this protection gives users additional peace of mind. The CoulVue case works in conjunction with the protective film.
Wall and Fridge Mount
It can be difficult to follow instructions in real-time when there is no place to safely prop the iPad Pro. The CoulVue mounting system transforms iPad Pro utility by making it possible to securely attach the tablet to vertical surfaces, such as walls and refrigerators.
Leather Sleeve for the Apple Pencil
Users are enthusiastic about the Apple Pencil, but there is one concern: The Apple Pencil is easy to misplace. The CoulVue sleeve makes it easy to transport the Apple Pencil, and it protects the Pencil's sensitive tip.
Visit the TouCoul CoulVue Multifunctional iPad Pro mounting system Kickstarter campaign page to learn more.
TouCoul LLC is a company dedicated to designing and manufacturing high-quality accessories for Apple devices.
For more information on the CoulVue Multifunctional iPad Pro mounting system:
http://toucoul.com
Press Inquiries:
press(at)toucoul.com
Sales Inquiries:
sales(at)toucoul.com