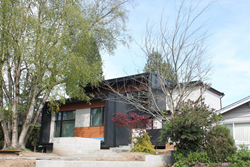 Six participating homes in the 4th Annual Vancouver MA+DS Home Tour will open their doors for viewing from 11AM – 5PM on Saturday, September 17th, in and around Vancouver. All are invited to attend.
Vancouver, British Columbia (PRWEB) August 26, 2016
Modern Home Tours returns to Vancouver for a fourth self-guided tour of modern homes in the area this fall. This year, however, the group returns as the new Modern Architecture + Design Society (MA+DS), a new multi-media/multi-function entity that aims to create a vibrant, global community of modern architecture and design enthusiasts through multiple platforms that inspire engagement with the people, places, and things that define the "modern" movement.
During the home tour on September 17th, tour-goers will get the inside scoop from homeowners on what it's like to live in a modern home, and learn from the architects where they found inspiration. This is every BC resident's chance to see the inside of 'that unique, cool house you always drive by…'
For the third year in a row, the Chip and Shannon Wilson School of Design (part of Kwantlen Polytechnic University) has been named as the MA+DS Home Tour local non-profit partner and beneficiary. Fashion marketing students will help staff both events, in return for a donation to the school's program and the opportunity to use the tour as a fundraising vehicle, while also contributing community service hours, a cornerstone of the applied learning that Kwantlen students are known for.
The annual MA+DS Home Tour is a featured event within Western Living Magazine's Design Week, which runs from September 15th to 25th. Editor-in-Chief of Western Living, Anicka Quin, co-curated the Vancouver MA+DS Home Tour.
Six homes have been accepted and confirmed for the 2016 Vancouver MA+DS Home Tour. Participating architects and designers, and featured neighborhoods include:
(1) The Re-Generation House in Vancouver's Oakridge neighborhood renovated and redesigned by One SEED Architecture + Interiors. This 1957 bungalow is the homeowner's boyhood home, which has been in the family for three generations. The renovation honored what was working with the house, such as its size and general plan, while creating a whole new look and some very special spaces
(2) A 760sf laneway house designed by Lanefab Design/Build located in Vancouver's East Side neighborhood. The small 1bedroom-1 bathroom live/work home is built behind an existing Vancouver house, and features numerous green components including a rain garden which captures and stores rainwater.
(3) A new single family home and laneway studio in South Cambie, designed by Measured Architecture with interior design by Project 22 Design Inc. The "Park House" expresses the owners' love of industrial and mid-century design with its exposed structural steel I-beam, wood ceilings, open floorplan, 3-sided fireplace and walnut millwork throughout. The new home embraces park and mountain views and invites the inside out as much as the outside in.
(4) A home located in the 'Little Australia' neighborhood designed by Frits de Vries and built by Natural Balance Home Builders. Located directly adjacent to Pacific Spirit Park, the house is conceived as a pavilion in a park - a loose arrangement of simple, bold elements that float in a park-like atmosphere. With ample garden and courtyard spaces, the design puts emphasis on outdoor living, with strong visual and physical connections to the natural forest landscape; privacy meticulously balanced with views.
(5) A unit in the Marinaside condominiums in Yaletown designed by FR Interior Design. The unit has been revitalized from a dark, oppressive décor to an open, airy home filled with personality and charm. The design details and furniture selection are tailored to the aesthetics and interests of the homeowner, resulting in a space that is truly unique and "not just another downtown apartment."
(6) A home designed and built by Blu Bathworks in West Vancouver that features interior design by Gottschalk Design Inc. Described as "The New Architectural Renaissance," the home features a great room with 14 ft ceiling and expansive tilt and turn glass windows and steel structural elements, a designer custom kitchen with Blu Bathworks finishes, a luxurious 715 sq ft master suite, a full gym and additional nanny or theatre room.
Participating homes in the 4th Annual Vancouver MA+DS Home Tour will open their doors for viewing from 11AM – 5PM on Saturday, September 17th, in and around Vancouver. All are invited to attend. Tickets for each event are CAD$40. For more details, to see a current roster of homes with details and photos, and to buy tickets for the Vancouver MA+DS Home Tour, visit: http://mads.media/mads-vancouver2016.
About the Modern Architecture + Design Society: Based in Austin, Texas, the Modern Architecture + Design Society was founded was founded by James Leasure in 2010 as Modern Home Tours, to introduce modern architecture and living to people across the nation. Through fun and informative self-guided home tours in dozens of cities across the USA and Canada, the group invites people into some of the most exciting examples of modern architecture and design in the nation. With carefully selected architects, neighborhoods and architecture, the MA+DS Home Tours are unlike anything you've ever seen. Not only will you learn about the cutting edge of home design while on our tours, but you might even get an idea or two for your next home project!