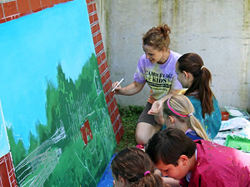 While I worked with Celtec differently in each project, I chose it for the same reasons for both: it's durable, light weight, environmentally friendly, can be used almost anywhere, and is easy to work with, install and maintain.- Gayle Mangan Kassal
Scranton, PA (PRWEB) December 02, 2016
Maryland artist and muralist Gayle Mangan Kassal recently selected Vycom's Celtec® expanded PVC material for mural projects at two schools in the Anne Arundel County Public School District. She worked with students to create artwork depicting the schools' culture and surroundings.
"I chose Celtec for both school projects because it's durable, light weight, environmentally friendly, can be used almost anywhere, and is easy to work with, install and maintain," explains Mangan Kassal.
The Meade Middle school in Fort Meade commissioned her to create a mural featuring their bulldog mascot to spruce up a dull white cafeteria wall. She worked with students to develop the concept and paint the mural. "Since the mural hangs 10' high in the cafeteria, using Celtec let the students be involved in the painting without the safety risks of working on scaffolding," says Mangan Kassal, "Knowing I could adhere a painted canvas to the sturdy Celtec when completed gave us the ability to roll up the working canvas each day, keeping it from occupying precious classroom space."
For the middle school mural, she purchased ¼-inch-thick Celtec from Piedmont Plastics in Elkridge, Maryland.
"It looks amazing," says Principal Christine DeGuzman. "The kids were very excited when they saw it."
The mural at Tracey's Elementary School adorns a gray, 115-foot x 4-foot-tall exterior retaining wall that is along a busy road; it is the first image people see when arriving at the school.
"The Celtec panels were a terrific, environmentally friendly way to approach the enormous wall one panel at a time," says Mangan Kassal. "Since it will not warp or crack, it will last longer in outdoor exposure and may also be removed easily if the school chooses to rework the mural in the future." For the wall, one-half-inch thick Celtec panels were used. Mangan Kassal finished the project by custom cutting each panel to mimic the contour of the landscape.
She notes the durability, versatility and light weight of Celtec has revolutionized the way she creates her murals, for school, hospital and residental projects.
"Celtec has freed me from dealing with scaffolding, heavy wooden frames or backer board, and the time constraints of working on-site within a client's business hours. I can now paint where I need to and when I need to, and produce a piece the client will love, and have no difficulty installing or maintaining."
Learn more about Gayle's work at http://www.GMKfineArt.com
About Vycom
Vycom, a division of CPG International, is dedicated to maintaining an environment where quality meets performance. Vycom offers the largest range of products, capabilities and inventory for all your Olefin and PVC needs. For more information, visit http://www.vycomplastics.com.
About Piedmont Plastics
Founded in 1968, Piedmont Plastics is an industry leader in the wholesale distribution of plastic sheet, rod, tube and film. Offering the most comprehensive assortment of top brands, and unrivaled product breadth, Piedmont delivers plastics solutions to more than 75 commercial and industrial markets. Operating from over 40 branch locations throughout North America, Piedmont provides the highest quality of service available in the industry. Each branch offers local inventory, value-added capabilities, and an expert sales team. Piedmont Plastics is…where solutions take shape. For more information, visit http://www.piedmontplastics.com.