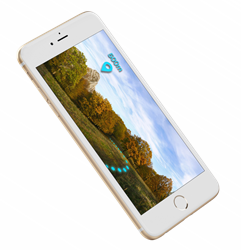 "It is a big step launching our new Wolf GIS Basic app with our Fission Platform, and has given Wolf-Tek the ability to really dream big with the kind of innovative products we want to develop under this platform," -CEO Michael Golden
Birmingham, AL (PRWEB) July 28, 2016
Wolf-Tek launched their newest Wolf GIS app called Wolf GIS Basic on Tuesday of this week with plans to release a GIS platform for all of their GIS apps to operate on collaboratively.
The new Basic app is available on the Google Play Store and an IOS version will be released before the end of the summer. Wolf GIS Basic has many of the features and functionality as Wolf-Tek's previous GIS app, Wolf GIS Apex. The new basic app is different than the Apex app, with faster tool access, fewer steps to create GIS data, and an easier navigation menu.
Lead Developer Kyle Taylor designed the app with CEO Michael Golden to be more comfortable to use for the everyday user in the field.
"I wanted workers to be at ease operating on the go and in the field so they can get their job done faster, collect more data, and operate more effectively," Taylor said.
The new Basic app is a tool for the workers that spend most of their time in the field, and traveling.
"I wanted to create an app that accompanies our Apex app, the Basic app is perfect for the guys who need a mobile GIS app with quick data gathering and asset management functionalities," Golden said.
He said that combining the Apex and Basic apps together on their new platform called Fission would allow Wolf-Tek users to collaborate and share documents together, no matter what app they use. Ideally, the Apex app will work great for a GIS professional or a manger of a large project keep up with and manage the GIS layers and data collected by Basic users in the field. Sharing data through both Apex and Basic together on the world's first mobile Geo-server apps.
"The Fission platform will be the engine behind all of our GIS apps and in app purchases, where many users no matter their background can collect and share data together," Golden said.
Taylor said he wants in-app purchases and other GIS apps Wolf-Tek produces to all operate together in unison on the Fission platform so that all GIS data a user creates or shares can operate smoothly for a user's business or company. Wolf-Tek has a few in-app purchases that operate in their GIS apps, with more in-app features to come.
"I am really excited to get to work on our new visual GIS in-app feature, called Prism, it will allow you to see GIS line, point, and drawing features either through your mobile device or devices like Google Glass," Taylor said.
Prism is visual GIS for Wolf GIS users to see GIS data in real-time landscapes through their Apex or Basic apps. Golden said he wants to try this new feature by showing major land developments, large construction projects, and other land management practices by visually showing what an area may look like with certain GIS project details. Users can view these GIS features through your smart device, Google glass, or Microsoft Halo Lens.
Prism along with historical PDF maps, parcel subscriptions, and a drone flight feature will all operate in Wolf-Tek's GIS apps.
"It is a big step launching our new Wolf GIS Basic app with our Fission Platform, and has given Wolf-Tek the ability to really dream big with the kind of innovative products we want to develop under this platform," Golden said.
The Wolf GIS Basic app has a 30-day free trial; many of the in-app features are available now.
Here is the link to the Wolf GIS Basic app: