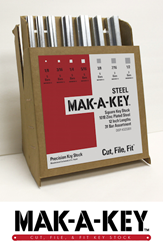 G.L. Huyett has acquired the precision key stock business of ITW Shakeproof Industrial Products, including the MAK-A-KEY™ brand.
Minneapolis, Kansas (PRWEB) January 11, 2017
G.L. Huyett is pleased to announce that it has purchased the key stock business and associated trademarks from ITW Shakeproof Industrial Products. Trademarks include the trade name "MAK-A-KEY™" – the oldest and most well known key stock brand in the world. Founded in 1953, the brand popularized the concept of "Cut, File, and Fit!™" MAK-A-KEY is manufactured from precision quality steel and accounts for the widest product line available for nearly any aftermarket gearbox application.
Tim O'Keeffe, CEO of G.L. Huyett, said, "The MAK-A-KEY brand name is very well known and reinforces our reputation as a manufacturer of choice in key stock and machine keys. Having been a long time master distributor for ITW Shakeproof Industrial Products, and the world's leading manufacturer of key stock – including Moltrup™ machine keys, G.L. Huyett is an ideal suitor for the MAK-A-KEY business. We look forward to servicing the key stock customers of ITW Shakeproof Industrial Products as we do for an array of industrial products."
O'Keeffe noted that the acquisition is another addition to G.L. Huyett's current expansion, and comes on the heels of the purchase of Precision Specialties in Collierville, Tennessee, in 2015. "We continue to look for strategic fits to our product and service offering," said O'Keeffe, "We have distinct management support systems to ensure that the employees and customers of retiring entrepreneurs or divesting shareholders are well taken care of and embraced into our Culture of Excellence."
ITW Shakeproof Industrial Products is a division of Illinois Tools Works Inc., specializing in the manufacture of specialty cold-headed products; wire forms including cotter pins; and helical split lock washers.
G.L. Huyett has prowess in M&A and is interested in additional acquisitions. If you are interested in selling your firm to a closely-held family business that will take care of your customers and your legacy, please contact Timothy O'Keeffe at tokeeffe(at)huyett(dot)com for a confidential consultation.
About G.L. Huyett
Established in 1906 by Guy Huyett in the "other Minneapolis," the company is one of the oldest continuously operating businesses in Kansas. The company was founded on the production and distribution of machinery bushings. In the 1990's, entrepreneurial owners Tim and Carol O'Keeffe recognized huge potential in offering low order minimums, fast shipping, and expanding product offerings to a complete inventory of power transmission components, pins, retaining rings, grease fittings and accessories, engineered fasteners, bushings, washers, assortments, and tools.