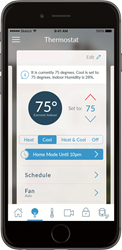 The company encourages its customers to consider this technology as a way to make their homes both smarter and safer.
PORTLAND, Ore. (PRWEB) March 21, 2017
Home automation is a growing trend in this digitized world, and its convenience encourages people to bring more technology into their homes. As of February 2017, Jacobs Heating & Air Conditioning trained its technicians to install the latest home automation system from Carrier, the Côr™ Home Automation line. The company encourages its customers to consider this technology as a way to make their homes both smarter and safer.
Home automation, or smart home technology, is the digital syncing and control of heating, cooling, lighting, security (including alarms, locks, and cameras), electrical outlets, and even Wi-Fi-equipped appliances. Smart homes can be controlled remotely on mobile apps from anywhere in the world, as well as on computers and central control units.
Every product within the Carrier Côr™ Home Automation line works together to create a smarter, safer, more comfortable home. It starts from the central hub, the nervous system of Côr™ Home Automation, and connects to the corresponding smart phone app or a computer. The system works throughout the home to turn off lights and manage home security, which includes signaling a camera to start recording when the garage door opens. It also controls and operates a Carrier smart thermostat, among many more features.
The Côr™ smart thermostat provides an average of 20% cost savings on heating and air conditioning through its life, according to a third-party study comparing it to non-programmable thermostats. To track energy savings over time, the smart thermostat provides easy-to-follow reports, compiling both high level and detailed data on its performance and energy usage in the home.
Once professionally installed by a Jacobs technician, the smart home system can work independently and check for software updates so it always uses the latest technology. The experts at Jacobs Heating & Air Conditioning encourage homeowners to upgrade to a home automation system to experience cost and energy savings and a more streamlined system of controlling and connecting the home.
About Jacobs Heating & Air Conditioning, Inc.
Operating out of Southeast Portland, Jacobs HVAC (CCB #1441) offers residential and commercial customers the best in heating and air conditioning equipment, installation and repair. Since 1952, Jacobs has provided solutions for energy conservation and reduction, backed by the company's extensive experience and expertise. The local HVAC company offers heat pumps, furnaces, air conditioners, water heaters, fireplace inserts and more. Jacobs is a Carrier Factory Authorized Dealer and a Daikin 3D Network dealer, as well as a trade ally of the Energy Trust of Oregon. For more information, visit http://www.jacobsheating.com.