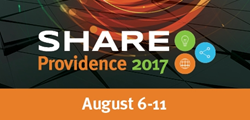 Austin, TX (PRWEB) July 27, 2017
CM First Group has signed on as a Silver Sponsor at SHARE® Providence, the one-stop shop for enterprise IT education, taking place August 6–11 at the Rhode Island Convention Center. At SHARE events, attendees enjoy a longstanding tradition of advancing the enterprise technology industry. Each bi-annual event is handcrafted by volunteers to help attendees expand knowledge, enhance skills and increase organizational efficiencies by focusing on three main tenets: Education, Networking and Influence.
Providing event attendees with the most current information on EvolveIT as well as best practices in modernizing IT Mainframe applications, CM First Group will be heading to Providence to be a part of the SHARE Technology Exchange Expo, joining other companies whose IT initiatives include DevOps, Innovative Workloads, Analytics, Big Data, Mobile, Cloud, DB2, Security and more. CM First Group will be providing the following technical contributions to the Share proceedings:
Lunch and Learn – Monday August 7th at 12:30 pm
Analyze and Document Legacy Applications with CM EvolveIT and Product Demo – Tuesday August 8th at 1:45 pm
Interested in Taming Your Technical Debt? - Wednesday August 9th at 1:45 pm
Business Rule Harvesting: Fast Track to DevOps Agility – Thursday August 10th at 8:30 am
We are very excited to have the opportunity to work with such a vibrant user community, and we are looking forward to interacting with our customers and partners on application optimization and modernization. I am always energized by the great technical conversations we are able to have.
For other news and updates on CM First Group, visit http://www.cmfirstgroup.com
To learn more about SHARE Providence, visit http://event.share.org.
About SHARE Inc.
SHARE Inc. is an independent, volunteer-run association providing enterprise technology professionals with continuous education and training, valuable professional networking and effective industry influence.
About CM First
CM First Group is a global software and services company established in 1999 with a focus on modernizing applications, managing technical debt and the agile development of enterprise apps. Delivery areas include; migrations of software code, databases and IBM hardware, custom app, architecture and API development, mobility solutions and knowledge transfer. CM First works with hundreds of IBM and CA Technologies business-critical systems worldwide, with numerous reference customers covering industries as diverse as logistics, travel, insurance, food processing and oil and gas construction. For more information, visit http://www.cmfirstgroup.com
Americas Headquarters
+1-512-600-1484
+1-888-866-6179
France
+33 608 504 285
infofrance(at)cmfirstgroup(dot)com