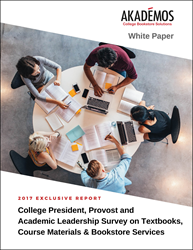 "We hope that our latest findings will provide colleges and universities with a roadmap on how to proactively address them both now and in the future."
Norwalk, CT (PRWEB) September 20, 2017
Today, Akademos, Inc. announced the release of its latest proprietary research survey and White Paper on textbooks, course materials and bookstore services. The findings of the 2017 President, Provost and Academic Leadership Survey on Textbooks, Course Materials and Bookstore Services provide unique insights into the obstacles colleges and universities face to reducing textbook and course material costs and highlights some of the best practices implemented across institutions to address them.
This exclusive white paper provides valuable data, comparisons, and analysis on today's hot-button topics, including the following high-priority items for academic leaders in higher education:

Textbook affordability
Student purchasing behavior
The impact of high textbook and course material costs on student success
Best practices to improving textbook affordability and accessibility
Emerging trends in digital materials and new learning models
Evaluation of the current bookstore model
This survey is the third in a series of president, provost and academic leadership surveys on textbooks, course materials and bookstore services conducted since 2013. The full report summarizes responses to all questions asked in the 2017 Survey, provides an instructive analysis of the results, and compares trends from the 2013 and 2015 surveys where applicable.
"At Akademos, we regularly conduct surveys to ensure that we understand and anticipate the demands of the bookstore services and course materials industry," said CEO John Squires. "We hope that our latest findings will not only paint a clear picture of the challenges institutions encounter today, but also provide colleges and universities with a road map on how to proactively address them both now and in the future."
This White Paper is available at no charge. Request your free copy by going to blog.akademos.com.
About Akademos
Akademos offers customized, online bookstore services and solutions that support what's most important to institutions. From full-service virtual bookstores to unique partnerships and products supporting on-campus shops, Akademos delivers cost savings on course materials for students while providing administrators and faculty with critical control over the textbook delivery process.
Akademos offers an innovative textbook marketplace, best-in-class eCommerce platform, eLearning solutions, and a unique adoption and analytics portal. The company's comprehensive supply-chain solution and commitment to responsive personal service makes it the choice of leading institutions throughout the country.
Akademos helps institutions deliver the right course materials, at affordable prices, on time. Learn more at akademos.com.