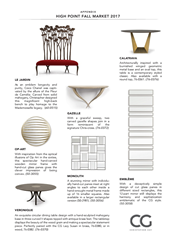 "We've been so incredibly fortunate to be able to extend our global footprint in unique ways, collaborating with outstanding talent in film and TV, while banding together with a luxury brand such as Nourison, who shares our vision and focus on craftsmanship and style." -- Christopher Guy Harrison
High Point, NC (PRWEB) October 04, 2017
Founder and lead designer of global luxury lifestyle brand Christopher Guy (CG), Christopher Guy Harrison, will host an official Autumn Grand Opening on Saturday, October 14 to inaugurate the brand's sensational flagship centerpiece. In addition, Christopher will be sharing the story of CG's worldwide expansion and success as he delivers his address to Market attendees on Sunday, October 15.
CG will also be debuting new pieces (please see Appendix graphic for all new pieces):

Le Jardin (60-0515): As an emblem longevity and purity, Coco Chanel was captivated by the allure of the Fleur de Camélia. Carved from solid mahogany, Christopher designed this magnificent high-back bench to play homage to the Mademoiselle legacy. Also available as dining chairs (60-0364 and 60-0365), as dining chairs with lower backs (30-0084, 30-0085, 30-0086 and 30-0087), as a very high-back chair (60-0513 and 60-0514);
Emblème (50-3058): With a deceptively simple design of cut glass panes in different sized rectangles, this 12-part mirror still displays the harmony and sophistication emblematic of the CG style; and
Veronique (76-0370): An exquisite circular dining table design with a hand-sculpted mahogany base in three curved V shapes tipped with antique brass feet. The tabletop displays the beauty of the wood grain and making a spectacular statement piece. Perfectly paired with the CG Lazy Susan in brass, 76-0380, or in wood, 76-0382.
High Point Market Week comes on the heels of CG's successful launch and partnership with leading floor covering brand, Nourison, creating a luxurious collection of hand-tied area rugs, each designed with the CG lifestyle mood in mind, fusing timeless and contemporary elements that embody the Christopher Guy look.
CG also became the brand choice as suppliers of the film sets for American Beauty Star, a star-studded Project Runway-like competition series focusing on the beauty industry, currently airing on Lifetime TV.
Placing the icing on its tenth year, CG will host a spectacular celebration within its 20,000 square-foot High Point centerpiece, which launched earlier this year. Theatrical and exciting "Cirque-inspired" performers will entertain attendees at the Grand Opening, as aerialists soar through the centerpiece showroom and ballerinas dance on the water features outside the beautiful two-story building.
"What a dazzling year it has been for our tenth anniversary," exclaimed Mr. Harrison. "We've been so incredibly fortunate to be able to extend our global footprint in unique ways, collaborating with outstanding talent in film and TV, while banding together with a luxury brand such as Nourison, who shares our vision and focus on craftsmanship and style."
Events are invitation-only, with the exception of press credentials. Kindly note, there are a limited number of openings available for interviews with Christopher Guy Harrison from October 12 – 16, 2017. Photocalls and interviews for the evening of the Grand Opening (October 14 from 5:00-8:00pm EDT) are available. Media must arrive by 4:45pm for a photo of Christopher Guy Harrison and aerialists and ballerinas. Electronic press kits will be available at the showroom for those wishing more information.
To arrange a one-on-one interview or press credentials for either event, the media is kindly requested to contact Ms. Birgit Muller at birgit@christopherguy.com no later than Wednesday, October 11.
ABOUT CHRISTOPHER GUY
Award-winning, internationally renowned designer Christopher Guy Harrison is the founder and CEO of CG. His creations first came to life in the mid-90s when he set out to create the industry's most unique mirror frames. He began building his workshops after acquiring a plot of land in Java where he sourced the best craftsmanship from local artisans. Today these workshops, spread over two sites, cover some two millions square feet and Christopher Guy has evolved into a complete luxury lifestyle that offers timeless values.
With showroom presence across the globe, Christopher's creations are selected by leading designers and retailers, from the grandest hotels and most spectacular resorts, to the world's most stylish residences. Its global appeal and often elaborate aesthetics have led to cameo roles in many blockbuster movies such as: Casino Royale, Ocean's Eleven, The Hangover, The Devil Wears Prada, and Charlie's Angels. Whether as statement pieces in luxurious hotels such as the Savoy, Wynn Resorts, The Bellagio, The Venetian, Mandalay Bay, or on Hollywood film sets, Christopher Guy's timeless and elegant designs are widely acclaimed to be one of the finest and influential decorative collections. Visit http://www.christopherguy.com for more info.
North America Enquiries:
Birgit C. Müller
Christopher Guy Brand Ambassador
Tel: +1 (310) 308-2847
Email: birgit.muller(at)christopherguy