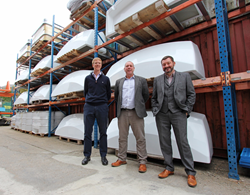 We believe that with our resources and the combined expertise from both companies' personnel, we can add further growth and success to the Sui Generis business
COLCHESTER, Essex (PRWEB UK) 12 October 2017
Whilst it is intended that Sui Generis will continue to operate as an independent business, there are advantageous synergies that the Milbank Group says will strengthen and secure the future of both companies. Mark Went, who has owned and managed the business for many years, explained that he chose Milbank as a potential suitor because he was looking for a company that would look after his staff and maintain their customer care.
The addition of Sui Generis to the Milbank Group contributes further to the group's plan to build a diverse group of industrial businesses. The Milbank Group currently consists of Milbank Concrete Products and Cadman Cranes, and the Sui Generis acquisition will take group's combined employment to more than 250.
Founded in 1947, Milbank Concrete Products is one of the UK's leading manufacturers of precast concrete products with a focus on exceptional customer service, based at Earls Colne, Essex. Cadman Cranes, also based in Colchester, runs a fleet of 25 mobile cranes ranging from seven to 180 tonne capacity and a unique selection of mini cranes, crawler cranes and specialist lifting equipment.
The acquisition was completed on 9 October 2017 with the help of Prism Corporate Broking (buy side advisors), Birketts Solicitors and Ensors (Tax Due Diligence).
Andy Mayne, Managing Director of Milbank Concrete Products and Cadman Cranes said, "Whilst Sui Generis may sell different products to Milbank, we are in fact very similar. Both companies design, manufacture, deliver and install products along with dealing directly with the end consumer, continually focussing on reliability and excellence. We believe that with our resources and the combined expertise from both companies' personnel, we can add further growth and success to the Sui Generis business."
Sean Milbank, Chairman of The Milbank Group said, "We are delighted to welcome Sui Generis into our very local group of businesses. All three companies have long-standing reputations for good quality service to their clients and caring for their staff, and the move is really positive news for everyone concerned."
Note to Editors:
A family owned and operated business with a trading history spanning over 70 years, Milbank Concrete Products is one of the UK's leading manufacturers of precast concrete products with a focus on exceptional customer service. Looking forward, Milbank continue to innovate and invest in new products, ideas and production facilities. With an exceptional team in place, Milbank's focus is to provide the most comprehensive service to its customers, helping them to achieve success.
Milbank's clients span the construction industry in all its forms, working with most of the UK's Top 100 construction companies alongside independent builders and self-builders. In addition, Milbank works with contractors servicing the civil engineering, rail, road and environmental sectors to name but a few.
http://www.milbank.co.uk 01787 223 931
Cadman Cranes is the leading crane hire company in East Anglia with over 40 years' experience and a reputation for quality, reliability and safety. Cadman offers crane hire on a CPA Crane Hire or CPA Contract Lift basis to East Anglia, London and beyond.
Cadman's extensive fleet includes mobile cranes from seven to 180 tonne capacity and a unique selection of mini cranes, crawler cranes and specialist lifting equipment.
http://www.cadmancranes.com 01206 543 232