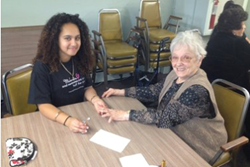 Concord, CA (PRWEB) September 26, 2016
Bay Alarm Medical (https://www.BayAlarmMedical.com), a leading supplier of medical alert systems for seniors, today announced its 2017 essay scholarship program. The company will be offering three private scholarships to students who are engaged in volunteer work with the elderly, or who participate in caregiving duties for an elderly relative.
"We were very happy with the impact our 2016 scholarship had on young people," says Alan Wu, Director of Sales and Marketing for Bay Alarm Medical. "This year, we've increased the size of our scholarships to have an even bigger impact."
The company will award scholarships of $2,500, $2,000 and $1,000 to the three students who submit the best essays describing how working with seniors has shaped their lives.
"We want to encourage more young people to help our senior citizens," says Wu. "But we also believe that seniors can play an important role in the lives of young people, impacting their lives and inspiring them."
Essays must be submitted by March 31, 2017. Scholarship winners will be notified by April 30, 2017.
Students must meet eligibility requirements to qualify for a scholarship. They must be a graduating high school senior or currently enrolled in an undergraduate program at a U.S.-based college or university for the 2017-2018 school year.
To learn more about the Bay Alarm Medical 2017 essay scholarship, visit https://www.bayalarmmedical.com/scholarship.
About Bay Alarm Medical
Bay Alarm Medical is an arm of Bay Alarm, one of the nation's oldest alarm monitoring companies. The company offers landline, cellular and mobile GPS medical alert systems together with 24/7 monitoring by professionally trained emergency operators who contact family members, friends, neighbors and, if necessary, local 911 emergency services.
For more information, visit the company's website at https://www.bayalarmmedical.com or call 877-522-9633.