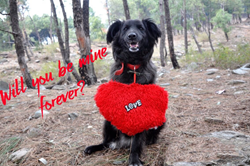 "Dogs never bite me. Just humans." ― Marilyn Monroe
San Francisco, California (PRWEB) February 08, 2017
The campaign features Kalu, who is looking for a Valentine. Kalu is a sweet three-legged dog that no one in India will adopt. Kalu was found on the streets after he was hit by a car as a puppy.
Valentine's Day is great time to communicate the compassion Dharamsala Animal Rescue provides. Being a valentine to Kalu or to any dog living at Dharamsala Animal Rescue, will help to provide food, medicine, shelter and lots of love. Donors will receive a Valentine's Card---what could be a better gift to your dog loving friends and family?
Dharamsala Animal Rescue (DAR) wants to bring attention to the well being of the thousands of dogs living on the streets of Dharamsala. India has the highest number of strays in the world; an estimated 35 million. Tragically, rabies kills over 30,000 humans annually in India, and the majority are impoverished children. Dharamsala Animal Rescue provides a humane solution - offering a spay, neuter and vaccination program, a rescue and adoption program and humane education for the community. Dharamsala Animal Rescue has seen astounding success with the implemented programs and hopes to continue to expand efforts.
Many dogs that end up living at DAR forever due to the fact that no one wants to adopt them. For example; Snowy and Marvin with a chronic skin conditions, Muffin with only one leg that works properly so she bounces from place to place, and Cookie, Coconut, and Kalu all on three legs.
By providing sponsorship for each permanent resident that lives at DAR, DAR can guarantee their continued quality of life. Any excess funds will go to help long term recovery patients who are suffering from broken bones, mange, rickets, malnutrition or any other health issue needed 24/7 care at the clinic.
Learn more about the Valentine's Day Sponsorship Program though GlobalGiving by clicking HERE.
DAR has a goal of raising $5000 to care for Kalu and his friends.
"They should run the country. So responsive and efficient. They Do everything out of love. So grateful for this organization. Must support such organization. Thank you." -Tenzin Choejor
GlobalGiving is the first and largest global crowdfunding community that connects nonprofits, donors, and companies in nearly every country around the world. We make it possible for nonprofits from Afghanistan to Zimbabwe (and hundreds of places in between) to access the tools, training, and support they need to be more effective and make our world a better place.
Dharamsala Animal Rescue was founded in 2008 and is a registered 501c3. Dharamsala Animal Rescue has been working to improve the lives of dogs living on the streets of Dharamsala while inspiring more compassionate behavior towards stray dogs in the community. Click HERE to have the best Valentine's Day ever!
Help Decrease Suffering and Increase Compassion!