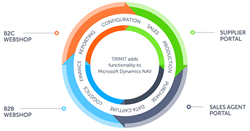 We are responding to the growing demand for the TRIMIT business solutions within the U.S. market
Viborg, Denmark (PRWEB) February 11, 2017
TRIMIT is pleased to announce that the company has opened an office in New York, U.S.
In addition to the headquarters in Viborg, Denmark and the branch in Copenhagen, New York is the third TRIMIT office opened by the global provider of business solutions based on Microsoft Dynamics NAV.
"By opening the new office, we are responding to the growing demand for the TRIMIT business solutions within the U.S. market," says Richard Postborg, TRIMIT CEO.
The TRIMIT solutions not only help companies run their business with greater efficiency and profitability by using only one single system, but also provide them with a solid omnichannel foundation that is considered to be extremely important in today's business environment.
From New York, TRIMIT offers information and services regarding the TRIMIT solutions to customers and partners involved in the fashion, furniture and general manufacturing industries.
"With the new office, we will further strengthen our market position in the U.S.," says Troels Rasmussen, Head of Sales at TRIMIT. "We have seen an increased interest and demand for the TRIMIT solutions in recent years, and we are continuously adding new partners to our partner network to offer TRIMIT customers high quality implementation and support worldwide."
To find out more about TRIMIT, please visit http://www.trimit.com
About TRIMIT:
For more than 25 years, TRIMIT has been a front-runner in delivering industry specific business solutions. Today, more than 400 companies in the fashion, furniture and manufacturing industries use TRIMIT to improve their business. A growing, worldwide network of partners ensures TRIMIT a global reach, and an active customer community plays a vital role in directing the solution towards the future.
Contact: Troels Rasmussen, Head of Sales, TRIMIT
Email: trr(at)trimit(dot)com