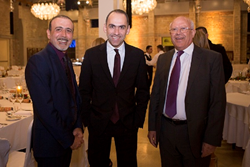 Limassol, Cyprus (PRWEB) December 30, 2016
The annual Christmas dinner of Windsor Brokers took place mid December at the Richard and Berengaria Ballroom of the Carob Mill in Limassol with Guest of Honour, His Excellency, the Cyprus Minister of Finance, Mr. Haris Georgiades.
Windsor Brokers celebrated another successful year of continuous development and distinctive business performance despite the several challenges faced during the year in the financial markets.
During his speech, Mr. Georgiades expressed the mutual respect towards the Founder and Directors of Windsor Brokers and thanked the Company for their long and successful presence in the Republic of Cyprus by stating, "I wish to thank you for making Cyprus your home and for your valuable confidence and support. Your efforts have been instrumental to the viability of the local economy and have greatly contributed to the process of overcoming the economic challenges of the recent years."
CEO of Windsor Brokers, Johny Abuaitah, thanked the honorable guests for attending the event and announced the outstanding performance results of 2016. He also highlighted that thanks to the Company's strong presence, long-term experience, noteworthy capital reserves and qualified team, adjusting sails to the winds of change was a smooth process.
During the event, recognition and loyalty awards were offered on behalf of the Directors to eight employees who have been part of the Windsor Brokers team for over 10 years
About Windsor Brokers Ltd.
Windsor Brokers has been a leading provider of financial services for 28 years, catering to both retail and corporate investors from over 80 countries worldwide.
Windsor Brokers Ltd is licensed and regulated by CySec (Cyprus), EEA authorized by the FCA (UK), registered with the ACPR (France) and BaFin (Germany) and complies with EU regulations.
The Company's capital adequacy ratio (CAR) is currently at 59%, one of the highest in the FX industry worldwide.