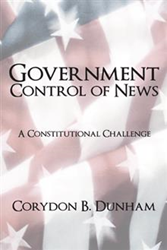 The problem is not with television, but with government interference for government purposes.
Connecticut (PRWEB) January 02, 2017
Government regulation of the news in America started in 1949, with the Federal Communications Commission's (FCC) Fairness Doctrine, according to the Washington Post. Its intended purpose was to provide contrasting views about controversial issues.
In 1985, the FCC revoked the doctrine, after completing an official review of its regulation and editing the contents of television news and speech.
In Corydon B. Dunham's new book, "Government Control of News," he provides a study of the regulation of news and speech by the government and proposes that the government's imposition on regulating information has dis-served the public's ability to learn of public problems needing public solutions.
Dunham claims that, instead of providing fair coverage, the doctrine had in fact distorted and suppressed the news and FCC regulation had reduced public access to information and political dissent.
"Government officials are not doing their jobs, when summoning station reporters to provide copy of their news coverage, so that a few non-journalists can change it to further their own political agenda," Dunham said.
Because of a rapidly-changing media, over the past twenty years, government regulation has had an opportunity to take advantage of gray areas, or times when the country's technology advances faster than its laws can adapt.
"The problem is not with television, but with government interference for government purposes," Dunham said. "Any such interference is a violation of the First Amendment and should not be tolerated in a free country with a free press and free speech."
For more information, visit: Government Control of News
Government Control of News
By Corydon B. Dunham
ISBN: 978-1-4502-6406-8
Available at iUniverse and Amazon
About the author
Corydon B. Dunham worked on television free press issues as a First Amendment lawyer and executive vice president of a television network, in charge of its legal matters, relations with the government, and network broadcast standards.
###
Review Copies & Interview Requests:
LAVIDGE
Lindsey Gobel
317.435.2116
lgobel(at)lavidge.com