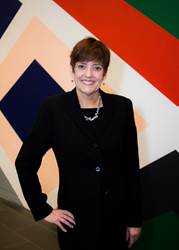 Santa Fe, New Mexico (PRWEB) December 30, 2016
The Georgia O'Keeffe Museum is pleased to announce that Colleen Kelly will join the Museum as Senior Director of Advancement and Communications, a newly-developed position.
Most recently, Colleen has held the position of Chief Development Officer at the McNay Art Museum, San Antonio, Texas, responsible for external affairs including fundraising, membership, visitor services, retail operations, and public relations/marketing. Prior to that position, which she has held since 2009, Colleen was Director of Development for the Museum of New Mexico Foundation, where she oversaw a number of capital campaigns across four museum campuses.
Colleen began her career in 1986 at the oldest united art campaign in the country as Associate Director of the Fine Arts Fund in Cincinnati, OH. Over an eight-year period she raised annual operating support for three museums and five performing arts institutions.
A native of Chicago, she received a B.A. in Music and Journalism from MacMurray College, and an M.A. in Community Arts Management from the University of Illinois-Springfield.
In her new position at the Georgia O'Keeffe Museum, Colleen will be responsible for fundraising, membership, stewardship, communication, public relations, and marketing.
Colleen Kelly will assume her new position at the Museum on Monday, January 23.
For media inquiries, please contact:
Mara Harris, Communications Manager
Georgia O'Keeffe Museum
505.946.1060
mharris(at)okeeffemuseum.org
###
About the Georgia O'Keeffe Museum:
To inspire all current and future generations, the Georgia O'Keeffe Museum preserves, presents and advances the artistic legacy of Georgia O'Keeffe and modernism through innovative public engagement, education, and research. Opened in Santa Fe, New Mexico in 1997, the Museum counts O'Keeffe's two New Mexico homes as part of its extended collection. The Museum's collections, exhibitions, research center, publications and educational programs contribute to scholarly discourse and serve a diverse audience. For more information please visit http://www.okeeffemuseum.org.