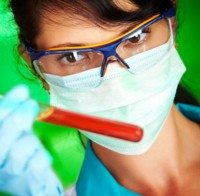 A negative association was observed between high LDH levels and poor overall survival in the current study...
Raleigh, NC (PRWEB) December 31, 2016
Scientists in China have analyzed nine different studies on the relationship between levels of an enzyme called LDH and overall survival in people with malignant pleural mesothelioma and published their findings in the journal Medicine. Surviving Mesothelioma has just posted an article on the report. Click here to read it now.
LDH (lactate dehydrogenase) is an enzyme released by the body in response to tissue damage. It is also known to be involved in tumor initiation and metabolism. According to the meta-analysis performed by researchers at Fujian Medical University, high LDH is also correlated with poor mesothelioma outcomes.
"A negative association was observed between high LDH levels and poor overall survival in the current study," writes lead author Dr. Yi Zhou. "Our finding suggest that pretreatment LDH level could serve as a useful predictor of prognosis in patients with malignant mesothelioma."
In total, the studies analyzed included the cases of 1977 patients with malignant mesothelioma, a rare cancer that affects the membranes around organs.
"Mesothelioma prognosis can be tricky because so many different factors impact it," says Alex Strauss, Managing Editor of Surviving Mesothelioma. "LDH is especially promising as a mesothelioma prognostic factor because it can be measured quickly with a simple blood test."
To learn more about the potential value of LDH in mesothelioma prognosis, see Blood Test Could Aid in Mesothelioma Treatment Planning, now available on the Surviving Mesothelioma website.
Zhou, Y, et al, "Pretreatment elevated serum lactate dehydrogenase as a significant prognostic factor in malignant mesothelioma: a meta-analysis", December 2016, Medicine, ePub ahead of print, https://www.ncbi.nlm.nih.gov/pubmed/28033270
For nearly ten years, Surviving Mesothelioma has brought readers the most important and ground-breaking news on the causes, diagnosis and treatment of mesothelioma. All Surviving Mesothelioma news is gathered and reported directly from the peer-reviewed medical literature. Written for patients and their loved ones, Surviving Mesothelioma news helps families make more informed decisions.