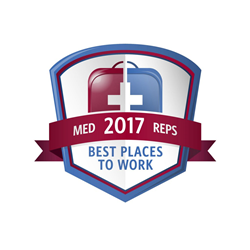 "Medical sales professionals have a multitude of options when it comes to deciding on where to work. That's why we encourage job seekers to never give up on finding a company with a culture and product line they believe in." - Karyn Mullins, EVP MedReps
Alpharetta, GA (PRWEB) January 10, 2017
A recent survey by MedReps (http://www.medreps.com/), a job board for medical sales representatives, revealed Medtronic, Johnson & Johnson, and Stryker as the overall best medical sales companies to work for this year.
The 6th Annual Best Places to Work in Medical Sales survey, which polled more than 1,200 members of the MedReps community, also provides insight about the qualities and values medical sales representatives find most important in a potential employer, including strong product line, competitive compensation, brand recognition, and commitment to innovation, research, and development.
"Most of our respondents said they prefer to sell medical devices or equipment, so it's no surprise we found Medtronic and Stryker as two of the top three," said Karyn Mullins, Executive Vice President and General Manager at MedReps. "To make the report even more useful, this year, we broke the best places to work down into three categories -- medical device, pharmaceutical, and biotech -- helping job seekers successfully focus on their best career path."
Notable findings from the survey include:

Medtronic was ranked as the overall best medical sales company to work for, with Johnson & Johnson and Stryker ranked as second and third, respectively.
The majority of respondents (68 percent) said they would prefer to work for a small or medium-sized company.
Most respondents (72%) listed competitive compensation as one of the top two things they look for from an employer. However, sales professionals also want employers to focus on work-life balance. More than half of respondents (53%) listed work-life balance in the top two.
Half of respondents (50%) say a strong product line is the most important quality in an employer.
While 70 percent of survey respondents said they are very or somewhat satisfied with their jobs, less than half (45%) said they are very or somewhat likely to leave their job in the next year.
"Medical sales professionals have a multitude of options when it comes to deciding on where to work," Mullins said. "That's why we encourage job seekers to never give up on finding a company with a culture and product line they believe in."
For more information from this survey, click here: https://www.medreps.com/medical-sales-careers/best-places-to-work/.
About MedReps
MedReps is owned and operated by Healthcare Staffing Technologies. As the leading job site in its niche, MedReps gives members access to the most sought after medical sales jobs and pharmaceutical sales jobs on the web. Members have access to approximately 8,000 jobs and can apply directly to the recruiters and hiring managers who post them. For more information on the No. 1 site for medical sales, marketing, and management careers, please visit MedReps.com.