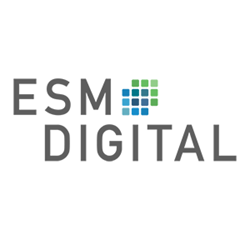 Digital Marketing is all about change...our rebrand is about looking to tomorrow, while still staying true to who we are
Cambridge, MA (PRWEB) January 03, 2017
Effective Student Marketing, a leading digital agency that specializes in providing marketing services to higher education clients across the U.S., has announced its new company name. ESM Digital will remain steadfast in its commitment to provide its clients with personalized and results-driven service. However, the company is looking toward the future, according to founder and CEO Andy Kelley.
"Digital Marketing is all about change," said Kelley. "We need to continually evolve, push the boundaries, and look for newer, better solutions for our clients. Our rebrand is about looking to tomorrow, while still staying true to who we are as an organization."
The sleek new name and digitally-themed logo are just the cornerstone of the company's plans for the future. With an additional location in Cambridge, MA, ESM Digital is also aggressively recruiting new talent to join their team of innovative marketing professionals.
"We've seen significant growth over the last five years and expect the trend to continue," said Kelley. "As ESM Digital, we'll be more nimble and able to adapt to our clients' changing needs, while leading them into the future with new strategies and technologies."
"Those clients will also appreciate our abbreviated URL," added Kelley. "Effective Student Marketing was a great tagline, but less effective as an email address," he laughed.
According to Kelley, ESM Digital will continue to offer a full range of digital marketing services and analytics, along with in-house design and copywriting. The company works with higher education clients across the country, helping them to attract quality applicants who enroll and succeed in their programs. Kelley said everyone on his team is extremely knowledgeable and passionate about what they do and eager to help their clients exceed expectations.
"We measure our success by the success of our clients," said Kelley, "and we're poised for growth and great success."
About Effective Student Marketing, Inc. d/b/a ESM Digital:
Effective Student Marketing was founded by Andy Kelley in 2004. It is a digital marketing agency and Premier Google Partner that embraces transparency and results-oriented marketing. It integrates marketing strategies that use social media marketing, paid search advertising and content creation to help institutions of higher education engage with students, graduates and future students to achieve their applicant enrollment and retention goals. Kelley and his team have a "think outside the search box" philosophy that combines creativity and technology to stay on top of the latest tactics and trends in the digital marketing industry for higher education. More information about their services is available at: http://ESMDigital.com/.