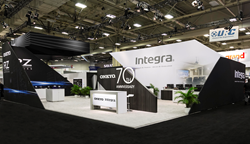 According to the editor of EXHIBITOR Magazine, "this competition is intended to spotlight the most remarkable applications of these adaptable, reconfigurable, and easily deployed exhibits, while also raising the bar on portable/modular design."
Dallas, Texas (PRWEB) January 03, 2017
EXHIBITOR Magazine announced the 2017 list of finalists for its fourth annual Portable/Modular Awards competition. In order to qualify, the displays had to be "modular, system or portable exhibits making their debut in the United States or abroad between Oct. 1, 2014, and Oct. 1, 2016, and [the contest] will be judged by a panel of world-renowned designers and marketing experts." According to Travis Stanton, editor of EXHIBITOR Magazine, "this competition is intended to spotlight the most remarkable applications of these adaptable, reconfigurable, and easily deployed exhibits, while also raising the bar on portable/modular design."
The Trade Group's exhibit for Oilogic Essential Oil Care is a finalist in the "Best 10-by-10-Foot Exhibit" category, and the exhibit produced for Onkyo USA Corp is a finalist in the "Best Rental Exhibit" category. The People's Choice Award voting is live on EXHIBITOR Magazine's website, with voting allowed once per day.
Oilogic's backlit, nursery-themed display took the floor at NACDS 2016 with a new design from The Trade Group—they were seeking a professional-looking exhibit that better reflected Oilogic's brand personality and would highlight their products. The wow-factor for this display is in the light box used as a backdrop, which brings the nursery theme to life with its luminescent glow.
Onkyo USA Corp's exhibit debuted their 50'x50' custom exhibit at CEDIA 2016 with four key goals in mind: celebrate Onkyo's 70th anniversary, raise brand awareness while positioning Onkyo as an industry leader, seamlessly feature both Onkyo and Integra product lines in one booth, and create an authentic home theater experience featuring their product lines. A strict budget was in order as well, so TTG designed the exhibit with economical, high-impact fabric walls to define the space and showcase the product lines.
Since 1986, The Trade Group has produced innovative, interactive solutions to tens of thousands of clients across the globe. With an emphasis on customer service, industry leadership and groundbreaking creative designs, The Trade Group has experienced exponential growth from year-to-year.
About The Trade Group
The Trade Group is a full-service, award-winning provider of products and services for trade shows, corporate events, retail environments and an endless array of face-to-face experiences. The organization helps clients share their unique stories through a comprehensive suite of solutions that includes: exhibit design and fabrication, graphic design and production, exhibit management, digital applications, video production, experiential environments, strategic marketing and more.