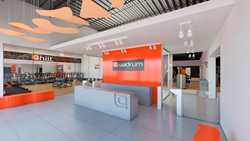 We are not a "rental" gym. We are a unique concept fitness center. A designer gym. We are…Fitness in a different experience
St. Petersburg, FL (PRWEB) January 10, 2017
Quadrum Fitness Center is preparing to open its doors on January 12th 2017, promising a different experience in fitness.
Situated in the heart of Pinellas Park in St Petersburg, FL, Quadrum Fitness Center will be the first Full Service Designer Gym in the US, and home to a host of state-of-the-art equipment and will offer a comprehensive timetable of signature classes.
Embracing technology…
Quadrum Fitness Center's promise of 'fitness in a different experience' will help people see their fitness regime differently. Offering something of a revolutionary experience, this boutique gym is the first in the U.S.A. to provide fitness equipment that features built-in cloud technology to track the workout progress of their athlete inspired signature classes.
Tracking workouts will get a whole lot simpler with the Quadrum Fitness app. The tracking software gives members the ability to manage their progress via the cloud anytime allowing for fitness routines at your fingertips no matter where you are. Even the biometric InBody scale will send information to your profile so you can take it with you.
In addition, Quadrum Fitness Center is the first gym in the United States to develop Q h.i.i.t., a fast-paced cross- training class that combines cardiovascular and strength training components utilizing the newest innovation launch in the world of high intensity interval training – SKILLMILL™ CONNECT.
What's more, every room offers heart monitoring to help you get the most out of your workout and allows members to access their readings via the cloud. Readings are displayed on 75" tvs located in all areas of the gym, so your information is never very far away. 'Digital calorie-burn tracking' can also be accessed through the Quadrum member cloud account, and clients are emailed a summary of their progress at the end of the workout.
Signature classes provided by experts…
With over 30 years' experience within the health and fitness industry, Quadrum's signature classes have been developed by professionals who are experts within the field.
Training splits are based upon individual goals or work schedule as well as energy system requirements and a person's ability to recover. This creates a very customized program, and one that can be managed and tracked in ways rarely seen before in one place.
Gains all round…
Quadrum Fitness Center isn't your ordinary gym! From surround sound and disco lighting through to the subtle fragrance circulating a fresh scent, everything about Quadrum Fitness Center offers a different experience and atmosphere in fitness. Expert advice is never far away; each machine contains a call-service button where during specific hours of the day trainers on staff are just a push of a button away.
For those looking for a place to rest after a hard workout, designer furniture provides a comfortable seat to enjoy a quiet moment with a smoothie from the Q-bar, or relax in front of the 138" video wall.
From signature classes like Q Punch, blending the best of Suspension Workout and MMA into a high-energy interval workout, through to Ballet-Pilates, Stretch-Roller, and 3D cycling classes such as Q-h.i.i.t. cycle and Q-revcycle, Quadrum Fitness Center is banishing boring workouts, offering a different experience in fitness with unique features unlike any other gym.
Overall, this is a totally different approach to fitness, focusing on the customer experience. The slogan 'fitness in a different experience' is something the team are keen to highlight. "We are looking forward to opening our doors to a very different kind of fitness experience. We are new, unlike anything else in Florida…or indeed the U.S. That makes us exciting and elite, but achievable." said Kevin Behrisch, General Manager of Quadrum Fitness Center, "We are not a "rental" gym. We are a unique concept fitness center. A designer gym. We are…fitness in a different experience."
Join the Quadrum Fitness Legion
For a limited time, Quadrum Fitness Center membership are starting at $25.99 per month, so those interested in joining are invited to book a tour of the center. Visit QuadrumFitness.com or call 727-827-7979 to book a tour.
Get social
As a fitness center that embraces today's digital world, anyone interested in keeping up-to-date can follow on Twitter and Instagram @quadrumfitness or like on Facebook/QuadrumFitness. More information about Quadrum Fintess Center visit http://www.quadrumfitness.com