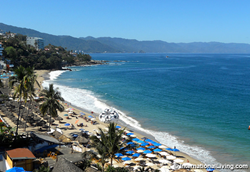 Mexico has always offered arguably the easiest transition to expat life around: Low cost, conveniently close, friendly locals, and plenty of expats—it offers an appealing balance of exotic foreign culture and familiar First World lifestyle.
Baltimore, MD (PRWEB) January 02, 2017
InternationalLiving.com, the leading authority on global retirement and relocation opportunities, has just released its Annual Global Retirement Index for 2017.
This year's Index ranks the top 24 retirement destinations in the world in 10 categories, including: buying and renting property; benefits and discounts; visas and residence; cost of living; fitting in; entertainment and amenities; healthcare; healthy lifestyle; infrastructure; and climate.
For the past 26 years, InternationalLiving.com has used an extensive network of editors, correspondents, contributors, and contacts based around the world to amass the information, data, and insights used to prepare the Annual Global Retirement Index.
The key aim of the Index is to help retirees find locations where their dollar goes further — where they can get the best bang for their buck in terms of real estate, cost of living, and overall quality of life.
The Index also assesses the quality of a country's healthcare and infrastructure, the proficiency in English of the local population, the size of existing expat communities, how healthy the lifestyle is, how easy it is to gain residence, and more.
In an ongoing effort to make each Index more comprehensive, InternationalLiving.com editors compiled the insights of more experts than ever before, making the 2017 Index the most detailed created to date.
By design, the rankings in the Annual Global Retirement Index are largely subjective. InternationalLiving.com editors rely on the informed judgment and real-world experience of the magazine's contributors and editors in the field as well as additional in-country expats…people who have made the move and have first-hand experience. They provide detailed data and insights into the particular areas in which they live. InternationalLiving.com editors believe this information, concentrating on the relatively small number of places in each country where expats actually live, is more useful than "macro" data averaged over an entire country.
That being said, as much available hard data as possible goes into analysis of each destination on the Index. Climate data, on-the-ground surveys of current pricing for groceries and day-to-day expenditures, local taxes, real estate prices, visa requirements, costs of specific medical procedures, and much more are all incorporated into Index rankings.
When the scores in all 10 individual categories are added up, a total score is established for each country which yields the list of the overall best countries in the world for retirement.
In InternationalLiving.com's 2017 Global Retirement Index, the world's top 10 retirement destinations are:
1. Mexico
2. Panama
3. Ecuador
4. Costa Rica
5. Colombia
6. Malaysia
7. Spain
8. Nicaragua
9. Portugal
10. Malta
Mexico, the winner of the International Living 2017 Global Retirement Index has been a constant presence in the Index. For the past 14 years, it has consistently ranked in the top 10 retirement destinations on the planet. And this year—for the fifth time—it takes the top spot once again.
Mexico has always offered arguably the easiest transition to expat life around: Low cost, conveniently close, friendly locals, and plenty of expats—it offers an appealing balance of exotic foreign culture and familiar First World lifestyle.
The cost of living offers extraordinary value—expats report living well for as little as $1,200 a month. And with favorable currency rates, right now the U.S. dollar buys nearly 50% more than it did just a few short years ago.
The complete 2017 InternationalLiving.com Global Retirement Index, including more information on the winner and the other nine countries that made it in to the top 10, as well as the individual rankings in all 10 categories for all 24 countries included, can be found at: The World's Best Places to Retire in 2017.
Editor's Note: Members of the media have permission to reproduce the article linked above once credit is given to InternationalLiving.com.
For information about InternationalLiving.com content republishing, source material or to book an interview with one of our experts, contact Associate Editor Carol Barron, 772-678-0287 (US), CBarron(at)InternationalLiving.com.
For 36 years, InternationalLiving.com has been the leading authority for anyone looking for global retirement or relocation opportunities. Through its monthly magazine and related e-letters, extensive website, podcasts, online bookstore, and events held around the world, InternationalLiving.com provides information and services to help its readers live better, travel farther, have more fun, save more money, and find better business opportunities when they expand their world beyond their own shores. InternationalLiving.com has more than 200 correspondents traveling the globe, investigating the best opportunities for travel, retirement, real estate, and investment.