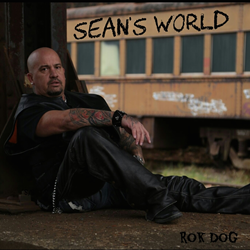 Hip Hop and Dance songs filled with bass and energy move people both in the club and the bedroom.
West Berlin, NJ (PRWEB) January 18, 2017
Seduction, strength, and love, are what the modern day bad boy of seduction represents on the full length album titled "Sean's World". Rap and Hip-Hop's new album on the scene is causing all the buzz.
"Sean's World " is a mix of old school Rap and new school Trap and Hip Hop music. Each track is delivered with clarity and strength on the freshest of beats leaving listeners entranced and wanting more. Rok Dog collaborated with different producers from all over the world to bring a hot and new sound to the music scene. Hip Hop and dance songs filled with bass and energy move people both in the club and the bedroom.The tracks not only demand respect, but show how a lady should be spoken to in the most sexy, seductive, and artistic ways.
Many people have asked "Where and what is "Sean's World?"
The phrase "Sean's World" evolved from Sean Murphy A.K.A Rok Dog's crazy social media posts on everyday life, thoughts, and views. (https://www.facebook.com/seanmurphy4u)
This world is a place where relationships are open, life is about happiness built from trust, honesty and communication. People want to be a part of Sean's World, and anxiously wait to read about the next wild, often risqué adventures. Years of a strong social media following was the inspiration for the latest musical creation "Sean's World." Writing and performing every song with class and style, Rok Dog was able to demonstrate the many aspects of Sean's World. From Rok Dog's tough street side, to expressions of love, erotica and romance, this album is the key that opens that door into Sean's World and truly gives you a look inside.
With the lifelong reputation as a romantic bad boy, Rok Dog has proven to be just that.
Released on January 17th, 2017 the full album is available for digital download on all major music websites.
http://rokdogmusic.com/
http://www.cdbaby.com/cd/rokdog2