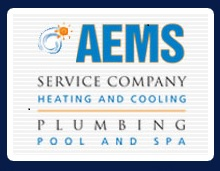 Tennent, New Jersey (PRWEB) January 03, 2017
AEMS Service Company ("AEMS"), a leading HVAC and plumbing services provider located in Central New Jersey, announced that it has acquired the business of RAM Services, Inc. dba ServicePlus, a BPI Goldstar Contractor based in Burlington, New Jersey ("ServicePlus"). Each company shall continue operating under its current brands. In conjunction with the acquisition, AEMS announced its accreditation as a BPI Goldstar Contractor.
ServicePlus has provided HVAC installation and repair services to homeowners and businesses in the Southern New Jersey area since 1992. The company was founded by Mr. Joe Landis, who will transition from day-to-day operations to a more strategic advisory role. The rest of the current team will remain intact and continue in their respective roles.
AEMS was acquired in May, 2016 by Asteroid Operating Company, Inc, an investment vehicle established by Mr. Sudeep Das, a Princeton, NJ-based private investor, to acquire U.S. based and founder-owned mechanical contracting businesses. "The acquisition of ServicePlus brings to AEMS a much needed base in South Jersey. Additionally, ServicePlus's track record as a BPI Goldstar Contractor principally serving the home energy efficiency market is a perfect complement to AEMS's strengths as an energy management and HVAC services provider to commercial establishments and property management companies. We are actively seeking and evaluating several other acquisitions and remain very focused on our broader strategic plan, which is to build a diversified commercial and residential energy services business that has the ability to be a one-stop shop for our customers," said Mr. Das.
Mr. Michael Ruberto, General Manager at AEMS, said, "Our customers principally care about quality of work and responsiveness, and the acquisition of ServicePlus allows us to build on the AEMS platform on both those measures. We welcome the ServicePlus team to ours and look forward to a successful integration and partnership."
"AEMS's plan of keeping the brand intact, retaining all key employees, maintaining the office location, while at the same time investing in sales and marketing and automation to accelerate growth and efficiency is exactly what my company needs at the current time. I am excited for the future of the business I have built, very happy for my employees, and look forward to partnering with the AEMS team as we together seek to grow the combined businesses and continually strive to provide an unsurpassed level of service to our customers," said Mr. Landis.
AEMS shall continue operations at 395 Main Street in Tennent, New Jersey. ServicePlus shall continue operations at 529 Lincoln Avenue in Burlington, New Jersey.
Terms of the transaction were not disclosed.
About AEMS Service Company. AEMS is an HVAC and Plumbing services provider located in Central New Jersey. Founded in 1979, AEMS has a long history of designing and providing effective energy management solutions to businesses and homeowners in the State of New Jersey and surrounding areas. For more information, go to AEMSServiceCo.com.
About RAM Services, Inc. dba ServicePlus. ServicePlus is a BPI-accredited HVAC services provider located in Burlington, New Jersey. Founded in 1992, ServicePlus specializes in installing high efficiency HVAC systems for residential customers in accordance with the standards of the Building Performance Institute. For more information, go to RAMServiceInc.com.