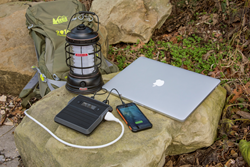 Las Vegas, NV (PRWEB) January 04, 2017
myCharge is making it possible to power nearly any electronic device or gadget anywhere with the introduction of its new Adventure series of products. From televisions to laptops to drones, no electronic is too power hungry and no destination is too remote. The Adventure series will be on display at myCharge North Hall booth #8600 during CES 2017.
Capable of storing between 3350 and 13400 mAh of power, the myCharge Adventure series for smartphones, tablets and other small gadgets is built for the outdoors. Use any smart watch, digital camera, phone, or tablet cable to connect. Pack-sized and easily portable the line includes the: blue Adventure Mini (3350 mAh), orange Adventure Plus (6700 mAh), grey Adventure Max (10050 mAh) and green Adventure Extra (13400 mAh).
In place of heavy bulky generators outdoor enthusiasts typically plug their gear into, myCharge has created more streamlined options. Hardcore power delivery is harnessed in the PowerBrick (20100 mAh), Adventure Ultra (45 watt AC output) and Adventure Extreme (65 watt AC output). Designed to make it easier to set up a fan and television at a tailgate or to stay connected with the office via a laptop when camping, the Adventure Ultra and Adventure Extreme feature AC outlets.
And instead of relying on a power bank to keep devices charged in the car, using up valuable battery before even reaching a destination, myCharge has created the CarHub. Plug it into any 12V auxiliary power outlet in a vehicle for multiple rapid-charging ports with Qualcomm Quick ChargeTM technology.
Too experience the new Adventures series first-hand, visit myCharge at North Hall booth #8600 during CES 2017.
About myCharge
myCharge, innovators in portable power create the ultimate portable power solutions for anyone, anywhere who needs to stay charged. Incorporating the highest quality components, cutting-edge design, and smart technologies, myCharge responds to the latest technological advances by providing products dedicated to restoring everyday balance and fulfilling consumer needs in today's on-the-go, always connected, digital society. Learn more at http://www.mycharge.com.