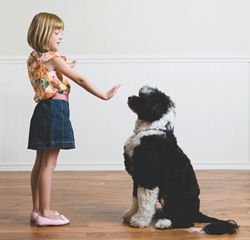 Dogs aren't born knowing how to 'sit', 'come' and "stay." We have to teach them.
Wilton, CT (PRWEB) January 03, 2017
For many families, the holidays brought the addition of a fluffy new member and lots of opportunity for play and bonding. Now it's time to start the all-important task of dog obedience training the holiday puppy.
"Dogs aren't born knowing how to "sit," "come" and "stay,"" says Traci Simo of Canine Company. "We have to teach them. Helping puppy learn what those commands mean and how to comply is an important step in your relationship with the new family member. "
Puppy training can begin as young as eight weeks of age, she adds. "A puppy is a sponge -- learning from the moment he enters the home -- so take advantage of that and get started right away."
She recommends the following:

Introducing the crate. Crating is a great tool for house-training, but it's also a safe, quiet place for the puppy when he is tired or stressed. Keeping puppy in the crate whenever he can't be supervised will keep him safe and teach him to seek comfort there.
Naming behaviors as they occur -- for example, saying "sit" when the puppy is already in a sitting position. This will help her associate words with actions and will gradually result in her responding to the word with the desire behavior.
Offering rewards. Dogs will do whatever works to get attention, so rewarding him with praise, play or a treat will reinforce desired behaviors and increase the likelihood those behaviors will occur more frequently in the future.
Ignoring unwanted behaviors. Following the same principle, the best way to stop unwanted behaviors -- like jumping up or whining – is to ignore them, she says. "If you don't make eye contact, talk to her or pick her up when she whines, she will figure out that it doesn't provide the result she desires."
Being consistent. It's essential the entire family respond the same way to the puppy. If one person lets him jump up, while others ignore that behavior, he'll get mixed signals and be confused. Everyone in the household should use the same words and actions
Training is an essential step in building a happy and positive relationship with any dog, says Simo. "It's harder to correct a bad behavior that has become a bad habit than it is to prevent that habit it in the first place, so get started right away. A professional trainer can help."
For more advice on puppy training, visit Canine Company's Good Blog!
Wilton, CT-based Canine Company offers products and services to help pet parents keep their dogs and cats healthy, safe and happy at home, including the Invisible Fence® pet containment systems, Manners ® dog obedience training, and mobile dog grooming and pet sitting services in select markets.