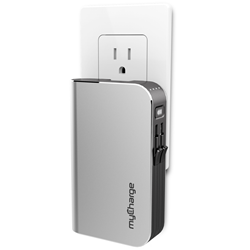 Las Vegas, NV (PRWEB) January 05, 2017
Forget the status quo. Leave the cables at home. Pack the extra outfit or pair of shoes. One of the biggest frustrations of travel – how to carry enough power and the right accessories without dedicating an entire suitcase to technology – is solved by the myCharge Hub series. The all-in-one charging solutions will be on display during CES 2017 at myCharge North Hall booth #8600.
New to the Hub series for 2017 is the HubPlus-C with Qualcomm Quick ChargeTM 3.0. With a battery capacity of 6700 mAh and an aluminum body, the HubPlus-C features a built in USB-C charging cable and one Micro USB cable. Fold out wall prongs on the back of the device are designed for convenience when the battery needs to be recharged. Quick Charge 3.0 paired with myCharge's SmartSense technology ensures that any compatible Quick Charge 3.0 device will charge 75% faster than devices that use conventional charging methods.
Currently available, the HubMini ($49.99) is the most compact in the Hub series. With a 3350 mAh battery it is ideal for smartphones providing up to 2x extra battery. The HubXtra is a step up in power (4400 mAh for $69.99) making it ideal for smartphones or tablets. Heavy power users with multiple devices will want to opt for the HubPlus (6700 mAh for $79.99) or the HubMax (10050 mAh $99.99). Both devices include: a Lightning cable, a micro-USB cable, wall prongs and a USB port for charging up to three devices at once.
Travel to North Hall booth #8600 to check out the full line of Hub products from myCharge at CES 2017.
About myCharge
myCharge, innovators in portable power create the ultimate portable power solutions for anyone, anywhere who needs to stay charged. Incorporating the highest quality components, cutting-edge design, and smart technologies, myCharge responds to the latest technological advances by providing products dedicated to restoring everyday balance and fulfilling consumer needs in today's on-the-go, always connected, digital society. Learn more at http://www.mycharge.com.