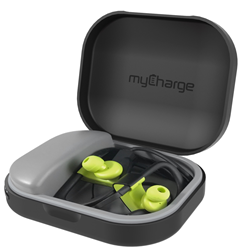 Las Vegas, NV (PRWEB) January 06, 2017
In the middle of an intense workout, during a long and loud flight, just as the mystery of a favorite television show is about to be solved, these are horrible times for the battery in headphones to sputter out of power. But, it happens every day because who remembers to charge their headphones until it is too late? myCharge makes it easy to remember by combining a charging station and storage case in one. The new PowerGear Tunes case will be debuting at CES 2017 at myCharge North Hall booth #8600.
The myCharge PowerGear line currently includes power-enabled cases for Powerbeats, and fitness trackers. Now, it will be possible to charge any Blue-tooth ear bud set with PowerGear Tunes. The rigid shell opens for easy access and charging is as simple as plugging in the ear buds when storing. If the power bank built into the case needs a battery boost, it can be plugged into any USB port with the included cable. PowerGear Sound extends listening time by 10x.
Currently available, PowerGear Sport ($29.99 in grey or pink and grey) flips open to accommodate fitness wearables like a FitBit or Apple Watch and provides up to 10x battery life. There is also storage for additional wristbands inside. PowerGear Sound, designed with a Powerbeats specific storage tray, ($39.99) extends listening time by 14X and protects ear buds inside a gym bag, laptop bag or purse.
To tune into the latest in mobile charging solutions visit myCharge at North Hall booth #8600 during CES 2017.
About myCharge
myCharge, innovators in portable power create the ultimate portable power solutions for anyone, anywhere who needs to stay charged. Incorporating the highest quality components, cutting-edge design, and smart technologies, myCharge responds to the latest technological advances by providing products dedicated to restoring everyday balance and fulfilling consumer needs in today's on-the-go, always connected, digital society. Learn more at http://www.mycharge.com.