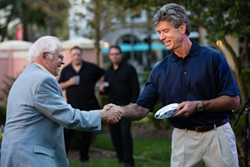 Every asset class has its day in the sun... and its day in the cellar.
Baltimore, MD (PRWEB) January 04, 2017
Few financial commentators have made solid predictions for 2017. Perhaps that's because 2016 was a year that defied expectations. The historic bull market in equities continued, despite the uncertainties imposed by the Trump victory, Brexit and the long-awaited increase in interest rates.
But Investment U strategists Alexander Green and Matthew Carr weren't shocked by these developments. Neither were their readers. Green's and Carr's analyses and insights prepared them for the many twists and turns of last year. Now they're offering up their predictions for 2017 market trends.
Carr is the Emerging Trends Strategist at Investment U. He's an expert on tech-sector investing. Based on his data, the most profitable tech niche of 2017 will be artificial intelligence - specifically the development of AI for autonomous vehicles and personal assistants.
These technologies are in early stages now. But Carr believes that rising demand and institutional interest will propel them into the mainstream later in 2017. In a recent article about tech market trends, Carr wrote:
"Semiconductor companies like NVIDIA are involved not only with the crafting of autonomous vehicles, but with the creation of all-autonomous agents.
"In just the past two years, the number of companies NVIDIA works with in the AI and deep-learning space has increased 1,154%."
Carr goes on to cite growing interest in AI from semiconductor makers, transportation companies and tech-industry publications as reasons why the AI space will be one of the most profitable investment areas of 2017.
Alexander Green is the Chief Investment Strategist at Investment U. He's a veteran Wall Street analyst with more than 20 years of experience as a financial advisor and commentator.
Green's most contrarian prediction for 2017 involves emerging markets. He feels that after a recent phase of underperformance, emerging markets are primed to surge. In a recent article on bargain investments, Green wrote:
"Every asset class has its day in the sun... and its day in the cellar. [Emerging markets] plunged 53% in 2008, fell 18% in 2011 and dropped 15% in 2015. They also posted negative returns in 2013 and 2014.
"Yet look further back. Emerging markets soared 40% in 2007, 33% in 2006, 35% in 2005, 26% in 2004 and 56% in 2003. In other words, when they move they really move. And as recent history shows, they are overdue for a big upside move now."
Based on Green's decades of investing experience, he feels that diverse asset allocation and a focus on emerging markets are the best strategies to play 2017's probable market trends.
Given the hard-to-predict trends that influenced the market in 2016, both Green and Carr feel that a contrarian mindset will be key to successful investing in 2017. Carr recommends investing in underdeveloped technologies, while Green advocates investing in underdeveloped countries.
Both are senior editors for Investment U, a financial news and education newsletter with more than 400,000 subscribers.