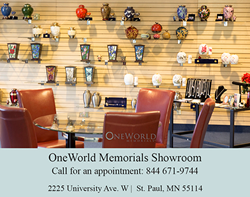 "Opening the memorial urns showroom will be a big asset for the Minneapolis/Saint Paul community. We're very excited to offer this much needed service. "
Saint Paul, Minnesota (PRWEB) January 10, 2017
OneWorld Memorials, the innovative online cremation urn and memorials retailer has opened the area's first retail cremation urn shop. Customers seeking a cremation urn for a loved one can visit the showroom to peruse and purchase products on the spot and add on custom engraving if desired.
As of 2016, more people in the US are now opting to be cremated rather than buried. This trend has resulted in thousands of urns and other memorial products being offered online at significant discounts. Nonetheless, online shopping has one drawback - customers still want to see the items in person before buying. Online retailers of all types have tried to compensate for this by offering free shipping and easy returns.
OneWorld Memorial decided to expand their successful ecommerce business after recognizing the benefit of offering customers a place to view bereavement products prior to purchasing, especially in Minnesota where the rate of cremation is higher than in most other states. "After moving our operations to University Avenue in Saint Paul, people from all over the Twin Cities started showing up at our door to buy cremation urns, without any prompting from us. It was clear there was a need," said Ira Woods, President of OneWorld Memorials. "Opening a retail showroom was a big decision, but our management team agreed that it would be very helpful in the Minneapolis metro area where cremation is popular and many people search online for memorial options."
OneWorld Memorials offers thousands of beautifully crafted urns, sympathy gifts and memorial keepsakes, with the vast majority housed on-site. "Opening the memorial urns showroom will be a big asset for the Minneapolis/Saint Paul community and we are in a good position to offer it. We're very excited to make this much needed service available."
To visit the OneWorld Memorials Showroom, customers can call 844- 671-9744 to set up an appointment. Monday through Friday hours are 9:00 am – 5:00 PM. Saturday hours are 10:00 AM – 2:00 PM. The showroom is located at 2225 University Ave in Saint Paul. or go to https://www.oneworldmemorials.com/pages/oneworld-memorials-showroom for more information.
About OneWorld Memorials
OneWorld Memorials provides quality memorial urns and related products, along with custom engraving and 5 star customer service. OneWorld Memorials offers cremation jewelry, biodegradable urns, condolence gifts, and more. To learn more, visit http://www.oneworldmemorials.com.