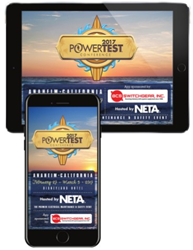 Portage, Michigan (PRWEB) January 05, 2017
The PowerTest 2017 mobile app will ensure conference attendees get the most out of the educational and instructional sessions, trade show, and networking opportunities during the premier electrical power systems conference February 27-March 3, 2017, at the Disneyland Hotel in Anaheim, California.
The app can be accessed on Apple and Android phones and tablets by searching for PowerTest 17 in the App Store or Google Play. Returning attendees who have already downloaded the PowerTest mobile app from 2016 can simply update the app in their device for the 2017 event.
Hosted by NETA— InterNational Electrical Testing Association, PowerTest 2017 is a five-day technical conference on electrical power systems commissioning, acceptance and maintenance testing, and safety, featuring more than 40 educational sessions overall. Attendees include contractors, engineers, field service technicians, electrical inspectors, and consultants from manufacturing plants, testing companies, industrial plants, petrochemical plants, utilities, wind energy companies, and government agencies.
The PowerTest 2017 app helps attendees maximize their time with the following features:

View abstracts and speaker backgrounds for the educational sessions
Customize your schedule for the events and sessions you plan to attend
Set reminders and manage alerts
View facility maps including Trade Show floor plan and booth information
Rate speakers and submit feedback
View sponsor information
Play the NETA 45th Anniversary Photo Challenge. Visit http://www.powertest.org for more details.
ACT NOW — EARLY BIRD REGISTRATION ENDS JANUARY 14
PowerTest attendees are encouraged to take advantage of Early Bird registration discounts, available until January 14. PowerTest 2107 registration or a social pass is required to attend all conference events and networking activities. Additional fees may apply. Discounts are available for NETA Accredited Companies and NETA Alliance Program subscribers, and by registering for multiple seminars.
Register for PowerTest 2017 at http://www.powertest.org or call 888-300-6382 (NETA).
ABOUT NETA
NETA is an ANSI Accredited Standards Developing Organization that creates and maintains standards for electrical maintenance and acceptance testing for electrical power equipment and systems, as well as a standard that addresses the certification of electrical testing technicians. NETA is an association of leading electrical testing companies comprised of visionaries committed to advancing the industry standards for power system installation and maintenance to ensure the highest level of reliability and safety.